Frequently deployed across the life science landscape for managing GxP content, Office 365 cloud services support collaboration, flexibility, and accessibility across a diverse range of organizations.
Office 365 has multiple essential features, making it a helpful tool for the life science industry. Built-in workflow capabilities via Power Automate or Flow allow users to automate various GxP and non-GxP business processes workflows and enforce the permitted sequencing of steps as required.
When deploying GxP processes in Office 365, you will need to leverage an approach that can address both technical considerations while accounting for the distinctions in your organizational culture and specific user requirements. In this article, we'll cover how to get started with Microsoft Power Automate (previously Microsoft Flow) to help your organization become more efficient by automating repetitive tasks in Office 365.


Microsoft Flow and SharePoint – The Background
In 2016, Microsoft introduced an Office 365 tool to automate business processes, improve productivity, and reduce repetitive tasks. This tool was initially launched as Flow and was renamed Power Automate by Microsoft in late 2019.
Flow is a workflow tool that is integrated into SharePoint Online. It can be used to set up workflows for libraries and lists in SharePoint Online, OneDrive for Business as well as other third-party resources. Flow has been deemed a replacement for SharePoint Designer by Microsoft and is increasingly being used to automate repetitive tasks and as a business process automation tool.


The Simplicity of Microsoft Flow
Flow is now part of the many tools available to Office 365 E3 (and higher) license holders and comes in three flavours. Microsoft offers a free trial license for anyone interested in exploring the capabilities of this new software. The free Flow license, as part of Office 365, will be sufficient for most user and company needs. The other options are the Premium licenses of the product, which allow you to share your workflows with other users, run your flows faster, and give you access to Premium Connectors. Recent changes to the platform presented in late 2019 also introduced Power Automate per-user plans and Power Automate per-flow plans.
The Premium connectors are APIs that connect SharePoint Online or other Office 365 applications to external applications. These types of connectors would merge several different cloud and SaaS products to your Office 365 or SharePoint application workflows and business processes.
Microsoft has developed and has shared many free Flows that are ready to use, out of the box. The best part? No coding required! With a selection, a click, and the acceptance of some authorization to access certain parts of your Office 365 data, an automated process is created. It's that easy to get started.
It can be as straightforward or as complicated as your business or requirements' needs. You can setup Flow with a literal click of a button to send the latest weather report to your Android or iPhone. The possibilities and the customization of what can be done to save you time are endless. Microsoft keeps adding more connectors and free pre-programmed flows since it has been introduced. Flow is available for download for almost any mobile device, including the iPhone and iPad.


Creating a Flow in Microsoft Flow
You can start your first flow by selecting the Flow on the ribbon of any SharePoint Online list or library and selecting Create a flow.

The Create a flow panel appears on the right-hand side of the screen where you can select from numerous templates that are freely available with your Office 365 subscription.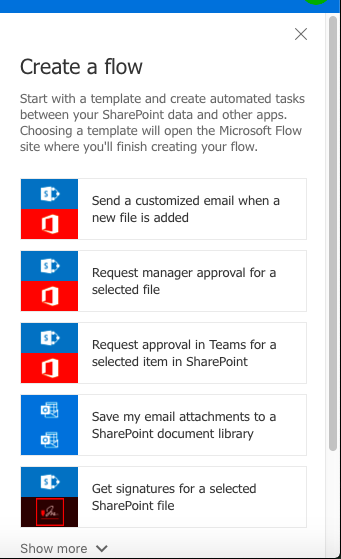 If you are in a clinical study environment, you may need to advise another group involved in the study that your documents have been reviewed and are ready to be transferred to the next group to continue the review process. The documents need to be transferred to another group's folder within your SharePoint Online document library for the next group to review.
Flow can allow you to automate your clinical study processes. Each step of your process can be automated so that documents can be transferred from one folder to another, and the respective group members are notified automatically once the documents are ready to be reviewed.


Who is responsible for managing the workflows?
Your automation approach will need to address technical considerations and account for your organizational culture, business process(es), and user requirements. But, who is responsible for your business process(es) managed by Office 365? That would be your Business Process Administrators or Process Owners.

Business Process Administrators execute three critical tasks:
Define business process requirements
Train users on the business process(es)
Ensure business process automation workflows are operating correctly
The administrators should also verify that the system is fit for intended use as per user requirements, regulations, and standard operating procedures. Having the right support behind automation with Microsoft Flow is key to success and ensures that Office 365 is maintained and managed over time.


Flow/Power Automate Resources You Can Use
There are many free templates available for your business needs that can be used and customized to work with your SharePoint Online lists and libraries.

The Takeaway
Automated workflows can be built using Power Automate (Flow) apps in conjunction with regulated business users to automate their GxP business processes in accordance with their requirements.​ Once you've set up your workflows, the next step is to have them validated via documented User Acceptance Testing to demonstrate fitness for the intended use.
To free your organization from repetitive tasks and relieve time and resources dedicated to manual business processes, we created the Office 365 Compliance Automation Toolkit. Montrium Professional Services experts can help you define the suitable configuration of the critical platform elements and site structure components to align with the business process needs. We help develop Microsoft Flows wherever business process efficiencies can be obtained through automation in our Office 365 Automation Toolkit.
If you're interested in learning more on automation with Microsoft, register for the upcoming webinar "Strategies to Facilitate GxP Processes Deployment in Office 365".
Share This Story, Choose Your Platform!