Welcome back! In the first edition of this two-part series, we looked at how a Discovery can help analyze and negotiate one's position and opportunities in such a way that valuable decisions and strategic execution can play out at a faster rate, with increased alignment, and with improved change management. The first steps described were building a relationship and initiating a Vision.
In this second part, we'll describe other Discovery sessions like requirements gathering, architecture design and delivery.

Requirements gathering sessions for Life Science and Office 365
Requirements gathering for Life Science and Office 365 is a challenge for how it needs to marry business needs, platform capabilities of Office 365, entry/exit points for data, and people and processes surrounding and within the platform.
It's normal for business analysis in general to have a wide area of coverage. However, there needs to be a greater focus and contextualization on scalability cost and technical implementation. More in-depth analyses need to be conducted into cloud-based information management areas like audit logs, access control lists, system performance, service levels and models (SaaS, PaaS, and IaaS), achieving control in an external system, integrating electronic signatures, different levels of risk assessment – all concerning the Office 365 service domain.
During Discovery, there should be a concerted effort to cover all these related areas in both business requirements and architectural solution sessions (more on that later) while remaining focused on the boundaries outlined in the Vision document. By examining both the business and architectural layers, all requirements can work in multiple modalities where they can stand on their own as part of a user journey, but also within the context of the Office 365 ecosystem.


Architecture solution sessions for Life Science and Office 365
Designing an Office 365 based solution for the areas highlighted in the vision and requirements sessions begins with leveraging out of the box functionality of Office 365 and SharePoint Online.
Organizations can extend outward into the customization and refinement of access control, templates, metadata, labels, content detection, and even further into automation with site, library and permissions provisioning and management that reflect business processes and document lifecycles.
This approach helps businesses to create natural-fit solutions that establish a foundation upon which they can build and replicate to scale with minimal effort.
For a natural fit between Life Sciences and Office 365, architecture solution sessions will help examine:
User and identity management (content, security, policies) through directory services

Access levels that reflect hierarchy, security, privacy, and document lifecycle needs

Content structures for segregating GxP and non-GxP content, collaborative work areas, TMF structuring, and archival

Content contextualization and identification through metadata like document types, labels, and retention indicators
Activity audit logging for history, compliance, and security (including alerts)

Automation methods for workflows to prevent human error, and improve performance through notifications, content movement and other group dynamics

Points of integration for electronic signatures

Version control: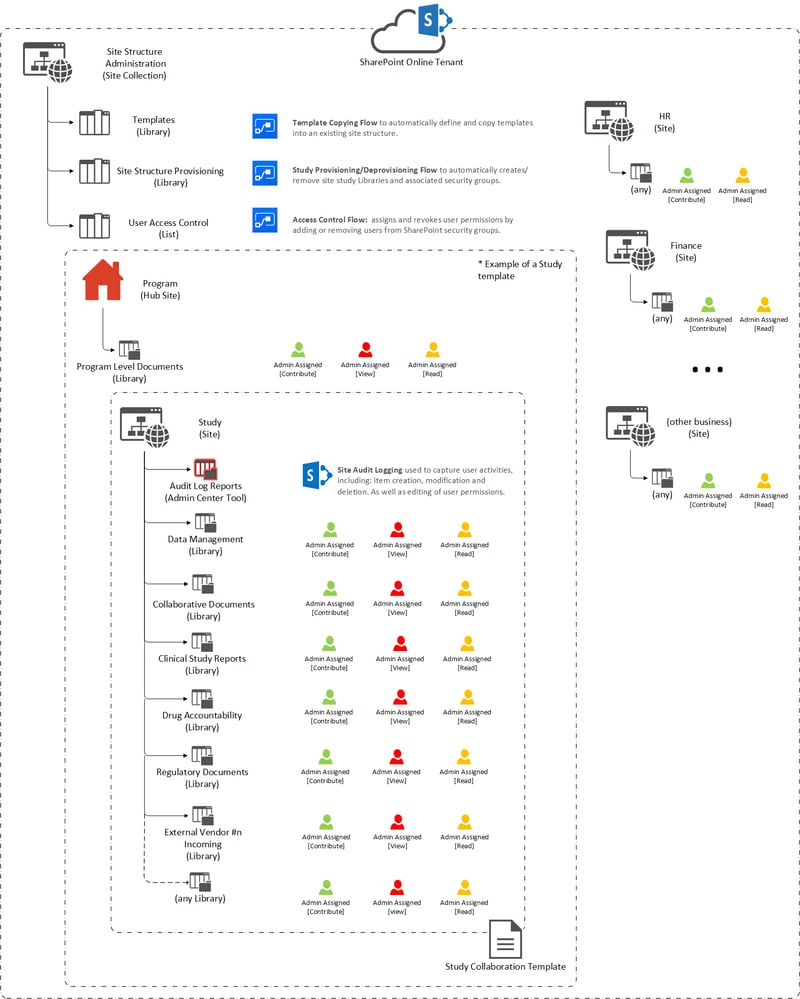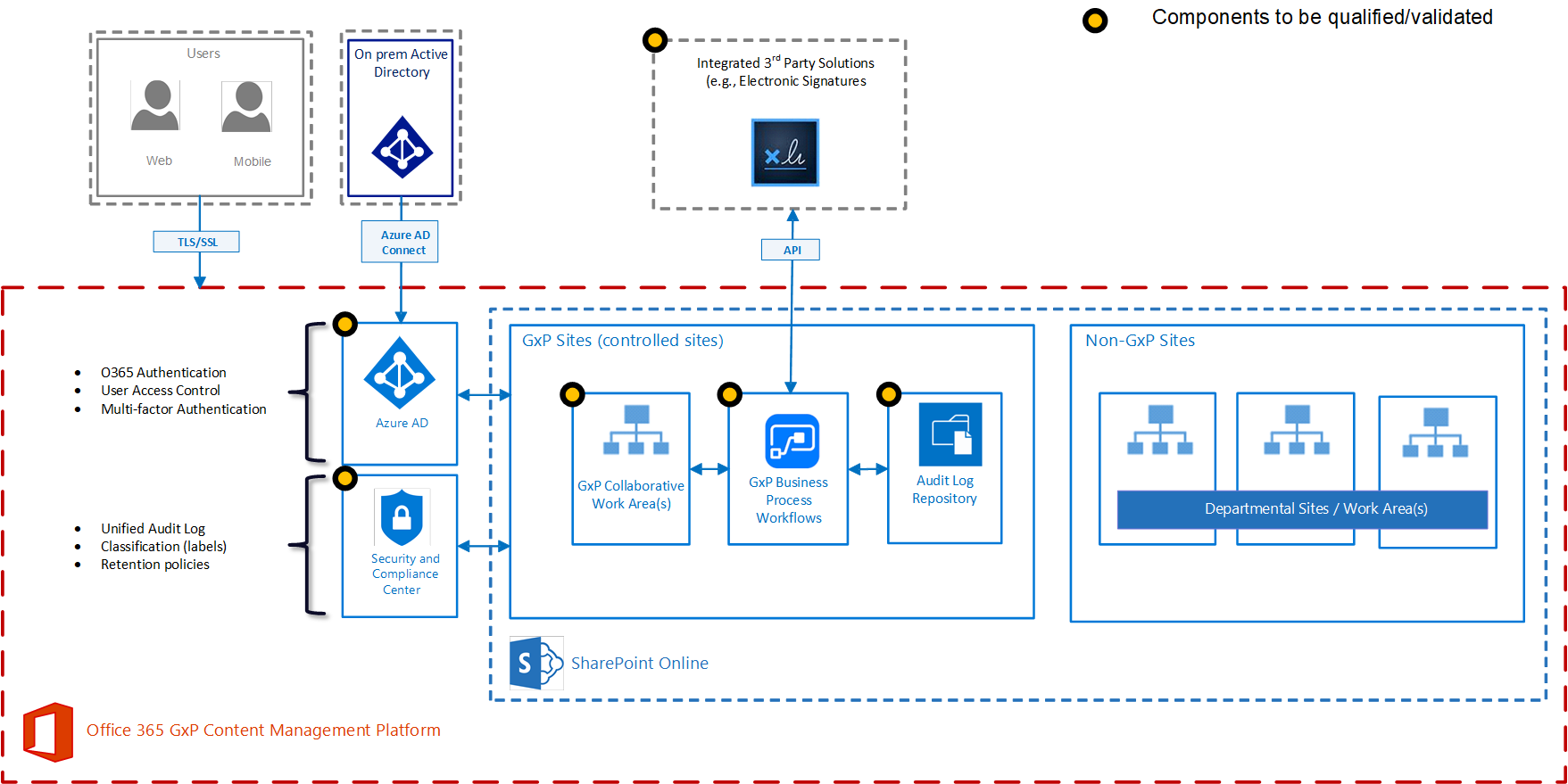 Solution proposal and
implementation planning
With the Vision clearly defined, a rich and productive relationship built, high-level requirements captured, and a solution architecture devised, the final phase of Discovery is ready for completion.
Before there is an implementation phase, a Discovery process must end with outputs. For GxP processes and Office 365 contexts, the vision, requirements and architecture designs can be brought together to form a System Description and an Implementation Plan. Once produced, the outputs need to be reviewed and accepted by key stakeholders to maintain the project team's shared accountability and Vision.
The System Description and original Vision will contain everything necessary to begin delivery of value, with the highest risk mitigated first.
With a System Description and an Implementation Plan in place, a business can move to implementation on their own, or through collaboration. The Discovery doesn't just expose and prepare value for delivery, but it's also valuable in and of itself in what it enables next.
Ready to learn more?
If you have any questions and would like to learn more about the Discovery process, you're welcome to participate in our live webinar on December 10th, 2019. Be sure to register soon!
Share This Story, Choose Your Platform!