The use of Adobe Sign for creating and managing GxP eSignatures is increasingly sought after by the life science community. In our last webinar on eSignatures, 48% of attendees shared that they plan to manage regulated GxP eSignatures in Adobe Sign, and 32% already had the solution in place.

While it may be tempting to leave paper-and-ink solutions behind us and switch to a cloud-based solution, Adobe Sign customers still need to do their due diligence. The FDA's 21 CFR Part 11 requires the validation of systems used for electronic records and signatures. Those who wish to leverage Adobe Sign must establish that the system's functions and identity authentication settings meet the applicable regulatory requirements.

With powerful, configurable controls and protocols, it's no wonder more teams are turning toward cloud-based eSignature solutions like Adobe Sign. Let's uncover the advantages that Adobe makes available to you, the customer, to reduce the validation burden.
Validation support from Adobe
To strengthen their service offering for life science organizations and make the validation effort as effective and efficient as possible, Adobe is collaborating with Montrium to offer validation document templates for Enterprise-level customers. The templates can help demonstrate how the features and functions of Adobe Sign adhere to your business needs and 21 CFR Part 11 regulations.
The customer should establish the appropriate level and extent of validation based on their intended use and complexity. Regulatory agencies and industry best practices, such as ISPE's GAMP 5, recommend following a risk-based validation approach per 21 CFR Part 11.
Included in the free Adobe Sign 21 Part 11 Validation Package (available for both eSignatures and certificate-based digital signatures), are document templates for the following: Validation Plan, Regulatory Impact Assessment, System Requirements Specification, Validation Test Protocol (including Test Scripts), Work Instruction, Requirements Traceability Matrix, and Validation Summary Report.
These documents are updated and re-issued as necessary for each major release in conjunction with an impact assessment report, which describes the potential impact from a validation perspective.
Each template in the Adobe Sign 21 Part 11 Validation Package can be adapted to your organization's unique requirements and can be prepared as part of a built-in framework for producing GxP signatures and records with Adobe Sign.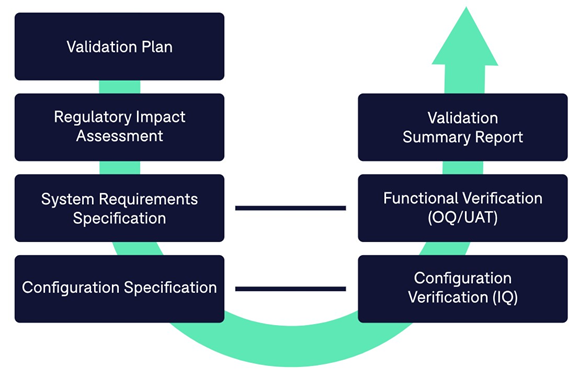 The Adobe Sign Validation Pack is designed to help customers establish documented evidence that Adobe Sign is fit for its intended use. The following typical use cases are considered in the Pack:

Validation: Planning and Risk Analysis
Adobe Sign customers should outline a Validation Plan that defines the validation approach, roles of those participating in the process, activities, responsibilities, and deliverables produced for the validation of Adobe Sign.
Once this has been completed, you should assess the risks and regulatory impact of using Adobe Sign in the context of specific GxP regulated activities you are performing. A Regulatory Impact Assessment will assess the regulatory impact of Adobe Sign for the application of electronic signatures to electronic records. It maps to both technical controls and procedural controls required for system conformance with 21 CFR Part 11 regulations.
In the last phase of your planning, you should define system requirements within the context of your business process, and establish the proper configuration to ensure the system can meet your business needs. A System Requirements Specification combines various levels of specifications, including the requirement specifications, functional specifications, and configuration specifications.
Life science customers should complete these steps for implementing the solution in a GxP context and ensure their Adobe Sign account is configured according to specifications. This involves enabling Bio-Pharma Settings and additional settings for authentication of users.
Validation: Execution and Reporting
Next, in executing the validation, it's important at this stage to ensure that Adobe Sign is operating as intended. Test scripts provide a framework that governs the verification and testing that will produce documented and objective evidence that Adobe Sign has been configured correctly and operates as intended (following specified requirements). A Validation Test Protocol governs the testing performed, including the configuration verification and functional tests.
So that your team is aware of the requirements to use the solution in a compliant manner, the Work Instruction describes Adobe Sign account administration activities and establishes a process for the application of electronic signatures. Users should be trained on this Work Instruction.
To support your validation exercise, you can determine traceability between the requirements and any relevant controls that have been implemented. A Traceability Matrix ensures the requirements are covered by testing.
Finally, you should create a Validation Summary Report summarizing the entire validation exercise, including a statement of fitness for your intended use.
The Takeaway
If you are a customer using Adobe Sign to apply GxP compliant signatures, you have a responsibility for validation. It is necessary to demonstrate with objective evidence that Adobe Sign is fit for your intended use of the system.
Together with completing the steps for implementing the solution in a GxP context, life science customers of Adobe Sign must remember these final takeaways to validate and maintain the validated state of the eSignature solution:
Leverage the free

validation pack

to streamline the validation effort

Ensure proper configuration of Bio-Pharma settings according to your needs and other authentication settings for user accounts (internal vs external)

Ensure proper training of personnel
About Montrium's Validation Services
Montrium provides an Adobe Sign Validation Toolkit to offer the required documentation and services needed to fulfill Life Science Customers' validation requirements. The Toolkit demonstrates how the features and functions of Adobe Sign adhere to your business needs and 21 CFR Part 11 regulations. Our validation experts work to ensure Adobe Sign is properly configured and maintained in a controlled state with your internal process owners and system managers.
Share This Story, Choose Your Platform!