The cloud is leveling the playing field for small business in the life sciences.
Many small to medium life sciences organizations are opting for the cloud for their applications and processes, bringing with them a whole host of benefits and advantages that have been difficult to leverage in the past. A recent report reads:
"Small to medium-sized pharmaceutical and biotechnology companies are key candidates for cloud computing services. Given the relative scarcity of funding in the current economic climate, which forces the need to minimize burn rates, cloud computing becomes especially attractive."
Another recent survey study shows that by 2020, 78% of small businesses will be fully adapted to the cloud, up from 37% in 2014.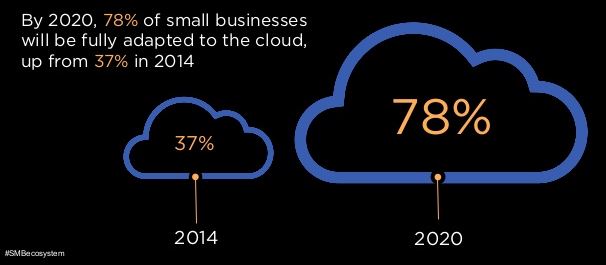 With clear figures to support the adoption of cloud computing for small to medium organizations, we have summarized below some of the key reasons cloud computing is dominating the boardrooms of emerging life science companies today.
It's a great way to cut down on costs
One of the biggest benefits that the cloud can bring is financial saving. Cloud computing uses economies of scale to spread the cost of the hardware and the applications you require over multiple companies. With little or no upfront cost, and a low predictable monthly fee you can leverage applications and environments that can scale up as your organization grows. Although not always the case, life sciences organizations can get up and running with systems in the cloud faster and for far less than ever before.
With a reduction in the amount of internal IT resources required to run these systems, coupled with the diminished need for investment in new hardware and enterprise software licenses emerging life science organizations become financially agile with a cloud-forward strategy.
It improves the way disperse teams can collaborate
Today we operate in a more global and virtual life sciences environment. With teams spread out geographically, the need for fostering global collaboration across divisions and outside research partners is paramount.
Imagine if you wanted to collaborate on a document with your colleagues, but they were all located across multiple locations. Typically we rely on web meetings, VPN connections (that can be temperamental) and email to help us collaborate with colleagues, and this can become a stream of mess where tracking the right version and collecting feedback can be increasingly challenging. With the cloud, emerging life sciences organizations are provided with stability and security to centrally exchange and collaborate on information. Your team would receive log in details to access a secure environment, where all stakeholders can collaborate and participate in the creation and management of content. Version tracking, audit trails and feedback collection is all facilitated by cloud-based applications.
It's great for organizations with small IT teams
With all of your applications and information in the cloud, there really is no infrastructure that you are responsible for (apart from the laptops and devices). With cloud software, or Software-as-a-Service (SaaS) you simply sign up, get your team trained and you are up and running using the system with no installation required. At this point you have no need to worry about maintaining, downloading or securing anything, it's all handled by the cloud vendor. This gives you the opportunity to push all of the operational IT work to other people (your cloud vendor) while your team works on managing more critical activities, like your core business.
By outsourcing the infrastructure and application maintenance, you are able to significantly reduce the risk and expense that a typical in-house IT team will incur. Just think, if you can spend less time managing your IT in-house, you can spend more time getting the most out of the technology and meet your business needs.
Share This Story, Choose Your Platform!