The pharmaceutical industry has long been abuzz with talk of data integrity. Why? The short answer is that it's incredibly important. Pharmaceutical companies have a responsibility to ensure the accuracy of data collected from clinical trials in order to prove both the efficacy and safety of the drug being tested. And the long answer? Well, we'll get to that in a bit.

In this article, we'll first discuss what data integrity is and why it's important. Then, we'll share some tips to help you leverage ALCOA+ to ensure data integrity. Finally, we'll go over how to create data integrity SOPs in the pharmaceutical industry, with a focus on how scaling pharma companies can manage data integrity without overextending their time or resources.
Table of contents
What is data integrity?
Different organizations include different properties in their respective definitions of data integrity, however most of these descriptions mention that data should have the following characteristics to fit the bill: accuracy, completeness, consistency, and validity. Essentially, to ensure data integrity, we need to be certain that data have been recorded correctly and that they haven't been altered in an unauthorized manner.

This aspect of integrity can include the actual physical conditions in which the data are stored (otherwise known as physical integrity) as well as the systems and procedures governing the storage accessibility of said data (known as logical integrity).

Now that we have an understanding of the foundations of data integrity, let's take a look at why data integrity in the pharmaceutical industry is so important.
Data integrity in the pharmaceutical industry: Why is it important?
The most pressing need for data integrity in the pharmaceutical industry stems from the obligation to provide patients with effective, safe, and high-quality products. Drug manufacturers must be able to demonstrate that their products meet the rigorous pharmaceutical quality standards set out by authorities. If you can't trust the data collected during development, then you can't trust that the drug meets these requirements. And, if you can't trust that the drug meets the quality standards, then how can you trust that it's suitable for patient consumption?

Additionally, we rely on data integrity throughout all stages of the drug development journey in order to have a true and comprehensive understanding of the implications of our practices and procedures. Access to accurate, consistent data enables senior management to have a strategic look at what's working and what's not. Are new technologies needed to aid in manufacturing? Are certain processes outdated or taking longer than they should? These are all decisions that require data to support their execution.

Despite the emphasis placed on data integrity, however, the amount of warning letters issued by the FDA that cited data integrity violations has increased exponentially. So, let's turn our attention to how, exactly, pharmaceutical companies can go about building data integrity into their SOPs to guarantee compliance.
ALCOA+ data integrity
If you're in the pharma industry, you've probably heard talk of ALCOA+ by now. But what is ALCOA+ and why is it relevant here? ALCOA+ was developed by the U.S. Food and Drug Administration to simply explain the elements necessary to achieve data integrity and remain compliant with regulatory requirements, both with paper and electronic systems. It describes data that are:
Attributable:

We can find where, when, and from whom the data originated.

Legible:

It's easy to read and understand the data.

Contemporaneous:

The data were recorded at the same time as the action occurred.

Original:

The data were recorded directly and not from a secondary source.

Accurate:

The data are correct and precise.

Complete:

All data are present.

Consistent:

Records are sequential and organized by date and timestamp.

Enduring:

The data are only recorded in authorized formats.

Available:

The data are accessible for review and auditing for the record's whole lifecycle.
To learn more about ALCOA+, check out our article explaining the principles of ALCOA+ and how they support data integrity.

Now that we're all on the same page regarding the importance of ALCOA+ in guaranteeing data integrity, let's look at how to create data integrity SOPs in the pharmaceutical industry.
Data integrity SOPs in the pharmaceutical industry
Figuring out how to draft effective data integrity SOPs in the pharmaceutical can be tricky, especially for scaling teams who may not be sure where the best place to start is. Here, we'll go over some high-level steps for creating SOPs that will meet your business and quality needs. We've already shared some insight intro writing quality SOPs for corrective and preventive actions in the past, but now we'll take a look at how we can factor data integrity into the process. Of course, we'd be remiss not to mention that the easiest and most efficient ways to draft, review, and execute SOPs is with a supercharged eQMS, such as Montrium's Quality Connect.



As always, this is not a one-size-fits-all solution. You should be conscious of tailoring SOP creation to your unique organizational requirements and practices. That being said, let's dig in!

High-level steps for drafting data integrity SOPs in the pharmaceutical industry
STEP 1
Plan ahead! Begin by figuring out the primary objective of your data integrity SOPs. Think about both the physical and logical aspects of integrity. Where will your data be stored? Where will original and electronic records be kept? In which systems? Who will be able to access it and how?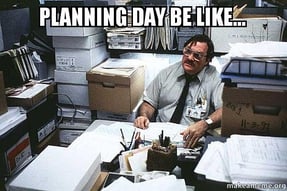 STEP 2
Define a clear structure for the SOP. Begin thinking about how much detail you'll need to provide in each section of the document. Will you arrange it in a hierarchical format? Or in a flowchart format? How will the intended audience be able to find things within the document? How can you make it as easy to follow as possible?

STEP 3
Start determining the actual logistics of the SOP, but don't go it alone! Enlist your team to help figure out the scope of the SOP. Make sure that you're all aligned on how you'll incorporate the principles of ALCOA+ into your data collection and maintenance practices.

STEP 4
Ensure that you remember who you're writing the SOP for at every step of the way. This means understanding each reader's knowledge and experience. For data integrity SOPs, you'll want to make sure that you involve your IT department—and whoever else has a stake in the process.

STEP 5
Now it's time to put it all down on paper and write a first draft. Make sure that you're including the proper title, ID number, date, signature, table of contents, and up-to-date procedures. Don't expect to be done after one draft, though. Most likely, you'll need to create several iterations before you get it right.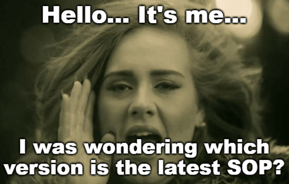 STEP 6
Once you've created your masterpiece, solicit your team members to help you review it. Do they find it clear? Do they think it will be effective in ensuring data integrity? You'll probably wind up with many edits to implement and you may have to perform a number of tests before the entire team is certain that the SOP will serve its intended purpose.

STEP 7
After your SOP is finalized and put in place, don't let it stagnate. You'll need to schedule routine reviews of the SOP to ensure that it can be optimized as your organization evolves.

Pharmaceutical SOP examples
While we hope that the steps we listed above will help guide your data integrity SOP creation process, we also understand that sometimes it helps to see an example to inspire you. Sure, you could hope on Google and find some pharmaceutical SOP examples to assist you in your SOP creation journey—for instance, here's a simple example of a data integrity SOP created by Pharmaceutical Guidelines.
If you're looking to get serious about your SOP creation, though, the best solution is to go straight to the pros. Users of Montrium's Quality Connect platform receive comprehensive, customizable SOP templates with their subscriptions, as well as the support of a whole crew of experts at their disposal.
Data integrity SOPs in the pharmaceutical industry: What now?
Listen, we get it. That was a lot to take in. We're not going to sugarcoat it and tell you that creating an effective SOP for data integrity is an easy undertaking by any means, but it is a crucial one. You'll need to put a great deal of legwork into planning, writing, and executing your data integrity SOP.
During her presentation on data integrity at TMF Week 2022, Bei Gene's Global Head of TMF Management, Jamie Toth, compared data integrity to being in the Matrix. In order to make it through the Matrix, she says you need to do the following:
Understand the regulations

Ensure ALCOA+ standards are being followed

Get to the

why

of your data

Put in place regular checks to ensure data integrity, and...

Document it all

in well-defined work instructions
Fortunately, there are a lot of resources to help you with these tasks. One surefire way to reduce the burden of data integrity SOP creation is by investing in a powerful eQMS system, such as Quality Connect. Not only will you be able to take advantage of the many features that our solution has to offer, but you'll also gain access to expert assistance and customizable templates for your organization to leverage. Quality Connect can help save time and resources, which are invaluable for scaling pharma teams.

Key Takeaways
Data integrity means that data are accurate, complete, consistent, and valid—both in the physical and logical sense.

Data integrity is important for ensuring the quality of drug products, demonstrating compliance with regulatory requirements, and improving business operations.

The ALCOA+ principles were created by the FDA and are the gold standard for guaranteeing data integrity.

Drafting data integrity SOPs in the pharmaceutical industry will take time, patience, and foresight, but an eQMS can help lighten this load.

Teamwork is crucial when drafting SOPs—make sure to include your team to help you with the process.

Don't just set it and forget it—you'll need to schedule regular review periods to update your SOP.

You can use examples to help inspire you as you write your SOP, or you can leverage expert-made templates from Montrium.
Share This Story, Choose Your Platform!