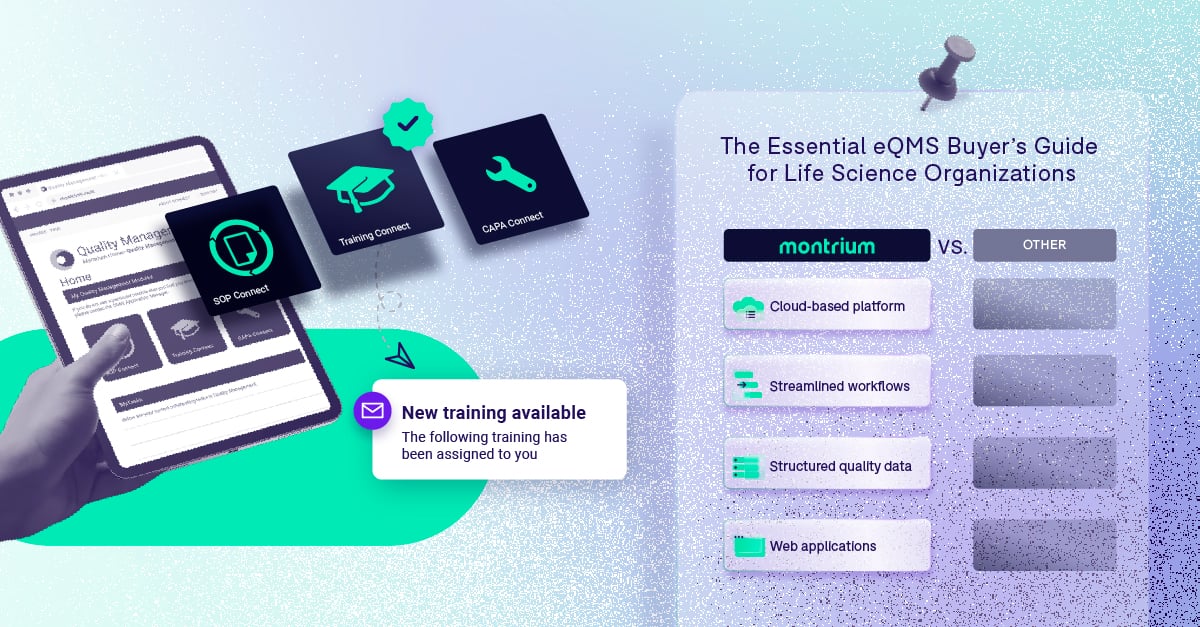 Keeping up with quality
The quality landscape is evolving faster than ever, and companies must adapt and follow technological advances without losing sight of regulatory and operational requirements needed to maintain compliant systems—that's why we aim for this guide to evolve with any changes in requirements and standards pertaining to quality management in the life sciences.
As of right now, the on-premises QMS deployment type accounts for about 55% of the existing eQMS usage. Though cloud-based software still hasn't taken over completely, the market is expected to see 14.5% annual growth until 2030 (Straits Research). In short, the world is shifting to the cloud and is expected to continue to do so at least for the foreseeable future.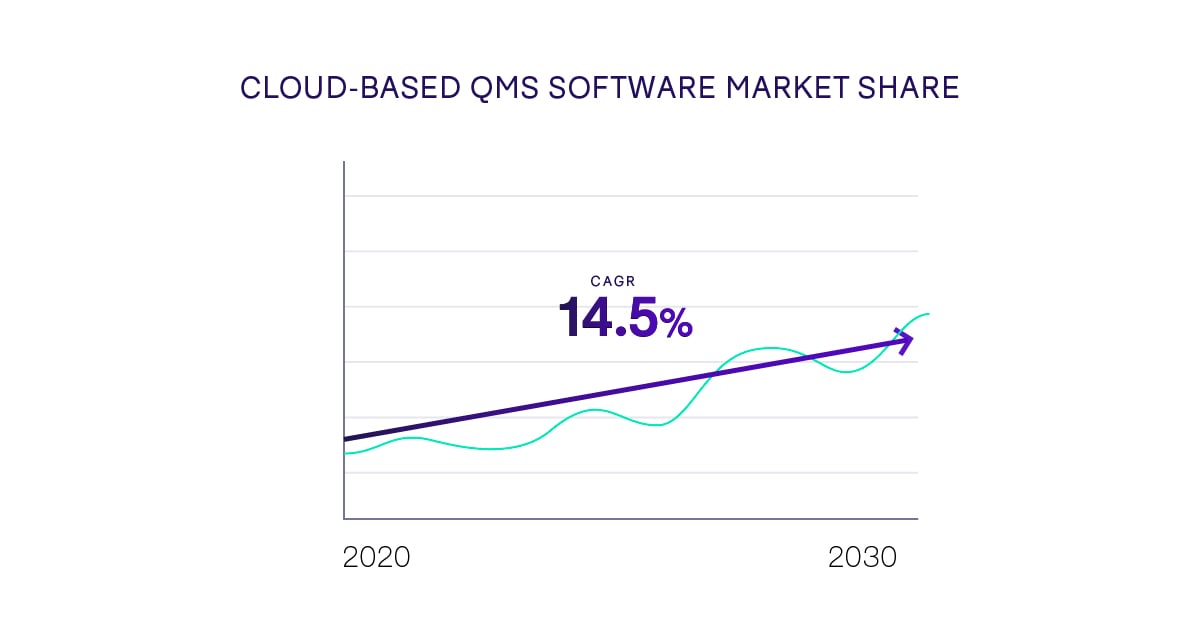 What is driving this shift, though? A huge factor is surely the Covid-19 pandemic, which forced the adoption of remote collaboration and software-based solutions for many organizations. Further, audits that were once conducted on premises with a few weeks or months' runway to prepare are now being conducted remotely. Plus, we now have to ensure our employees are adequately trained, without the convenience of classroom-based training or walking material to a team member's desk.
In this guide, we'll walk you through all of the important considerations as you evaluate your need for an eQMS and ultimately start your journey to implementing a quality management system platform for your organization.
What is an eQMS?
The term eQMS can refer to either an enterprise or an electronic quality management system—but both refer to the same tool. An eQMS for life sciences is a cloud-based or on-premises software platform that allows companies to manage quality processes all from one centralized location. Although today, most eQMS software systems that are implemented in the life sciences industry are cloud-based.
eQMS software typically refers to a software platform that is designed to manage and control the processes, procedures, responsibilities, and resources for achieving quality within an organization. Essentially, an eQMS is the electronic embodiment of a quality management system (QMS), which life science organizations are required by regulation to have in place.
What are the benefits of eQMS systems?
There are a multitude of benefits to organizations implementing any modern software, both those that impact the overall business, as well as the benefits to the department or area that the software aims to improve or modernize. We've already tackled the benefits of eQMS platforms in depth in another article, but we've outlined some of the most common benefits below.
Modernizing your organizational teams for growth
eQMS systems provide a wealth of functionality that can help streamline processes and improve workflows to action change in organizations at scale.
Reduce costs in managing manual paper processes
eQMS systems allow us to reduce our reliance on paper, ink, file folders, filing cabinets, and staff needed to manage documentation and processes—all of which add significant costs to any organization.

Providing a better environment for collaboration
With an eQMS platform, organizations can centralize document collaboration by connecting all stakeholders within distributed work forces at all workflow stages.
Tightening up document storage and management
eQMS systems provide geographically dispersed teams with a single source of truth to work from, eliminating the need to search through various document repositories.
Improving document control and traceability
A modern eQMS can give you full traceability, audit trail management, and version control over all quality content.
What tools are typically part of an eQMS?
When looking for features that will best suit the needs of your organization, one of the most important things to consider is the long-term scalability of the platform. Not all systems are built the same, and you will want to look for a system that will enable you to make a smooth transition from your legacy system or your manual QMS.
Here are some of the basic components you should expect to see from the eQMS systems you are evaluating.
Document control
Controlling the lifecycle of quality documentation is a critical component of your QMS. Within eQMS platforms, you'll likely find a module dedicated to document control which will include the ability to store, organize and retrieve quality documentation like SOPs, policies, work instructions, and other types of documentation. Ideally, your document control toolset should include collaborative authoring workflows or at the very least an integration with Microsoft Word, like Montrium's Quality Connect.
Training management
As mentioned above, eQMS systems are designed to manage and control processes and the individuals responsible for conducting those processes. This means you'll need a safe and secure place to manage and track employee training. As much of the training employees will conduct will be on procedural documentation, it's important to consider how the document control functionality provided in your eQMS integrates and automates the distribution of training within the training module.
Quality event management
It's inevitable that from time to time, your business will experience quality issues or events that your quality team wants to report and track. You may have traditionally captured this in an excel spreadsheet, but now you can manage these events in one central system. Most eQMS systems will either provide a dedicated module for managing all quality events and issues (like Montrium's Quality Events module), or individual modules for more specialized event tracking, like non-conformance management, deviation management etc.
Corrective & Preventive Actions (CAPAs)
Following on the same theme from our previous mention of quality events, most quality teams will have processes in place to remedy recurring issues through a process called corrective and preventive action management. Here you'll be initiating and planning any actions and processes that correct the issue found and plan strategies to prevent this issue from occurring in the future.
Change control management
If you're a life science organization you likely have a process in place for formally managing organization changes in a controlled way. Most eQMS systems should include functionality or a dedicated module for the systematized management of changes made to products or systems to ensure that they meet regulatory and quality requirements. These tools allow your teams to ensure that no unnecessary changes are made, that all changes are documented, services are not unnecessarily disrupted and that resources are used efficiently.
Audit & supplier management
Sometimes these tool sets are found independently, depending on your organizations use case. However, we feel these tools are meant to live together. We're required by regulation to ensure the vendors and suppliers we work with are adequately qualified to maintain the same standards we set. With this in mind, you'll want to store and manage all of the associated vendor documentation to ensure quality, as well as regularly audit them to ensure they're maintaining the same standards on an ongoing basis.
Risk management
While this functionality is fairly new to the eQMS space and has typically been something that lives standalone, we're seeing more and more risk management modules a mainstay in eQMS platforms. These modules will provide you with the ability to identify, assess and mitigate risks to the quality of your products or services.
Essential features of your eQMS
We've gone through some of the baseline components and key benefits of an eQMS. Now, we'll discuss the more specific features you should be looking for as part of the key quality management areas that are included in most advanced eQMS solutions; Managing the lifecycle of quality documentation, tracking and managing training compliance, reporting and remediating quality events and mastering organizational change.
Too often, quality systems are trapped within a silo and cannot effectively share data with other parts that make up the holistic QMS. When your modules are linked to company-wide quality processes and metrics, it's easier to drive quality improvements and understand what's really going on behind the scenes. When you're on the hunt for a new QMS for your organization you'll want to make sure the platform you choose has these baseline features.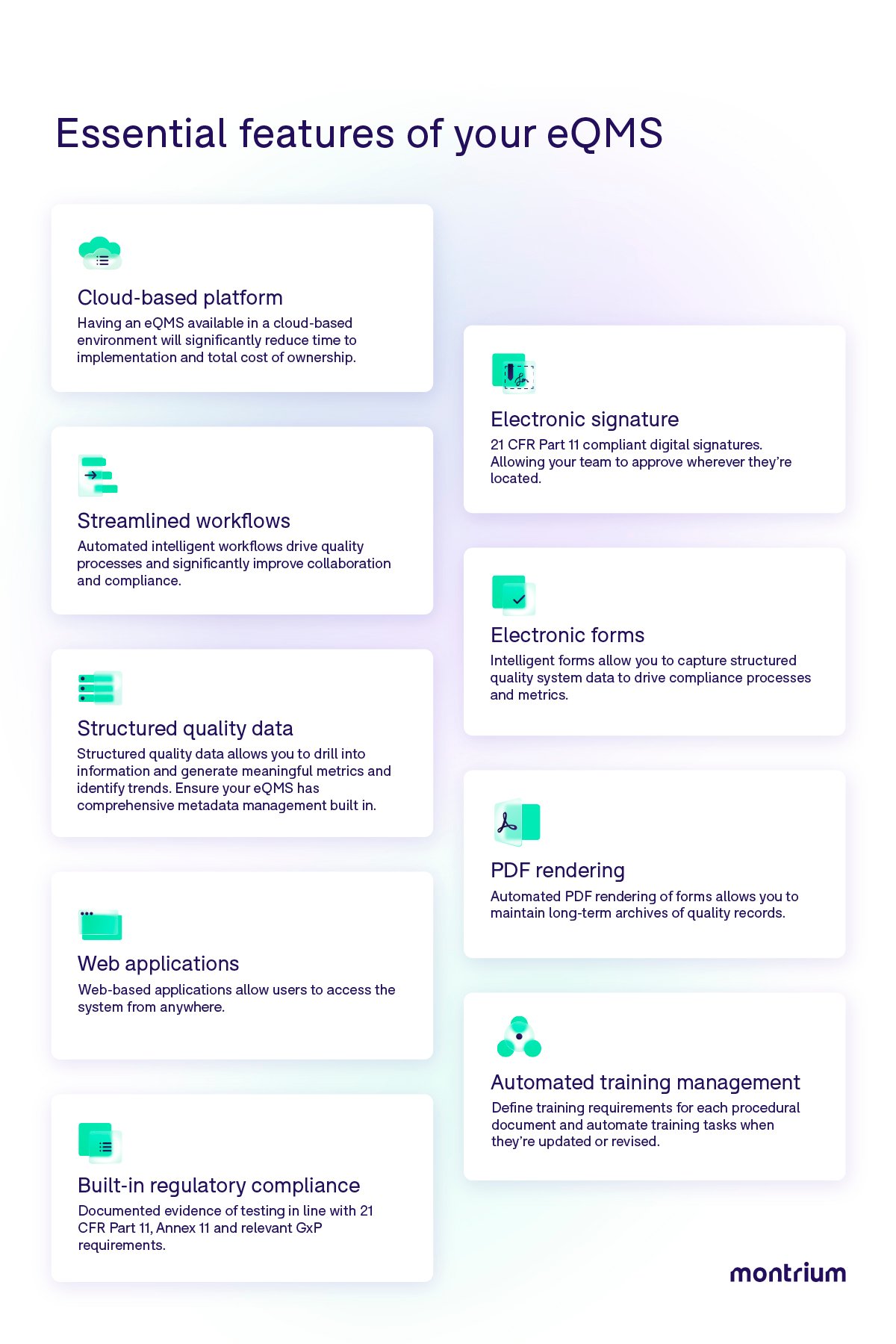 Does my organization need an eQMS?
If you're reading this guide, chances are you're in the market for a new eQMS system—either to implement an eQMS system for the first time, or to make the shift from on-premises to cloud-based software. However, there are some key things to consider as you make the case for an eQMS internally.
Paper is no longer a viable option
Paper-based systems continue to present substantial challenges for companies in the life sciences industry, particularly those with geographically dispersed teams. Paper systems likewise inhibit successful collaboration, despite being a critical aspect of product development and commercialization. Not to mention, the extensive time and resources required to manage paper-based documents detracts from what should be the primary focus—ensuring superior product and process quality. All in all, the tangible nature of paper documents can lead to inefficiencies and difficulties in maintaining current records, which will undoubtedly have a negative impact on both teamwork and productivity.
The challenges of staying audit-ready
Life science companies are challenged with maintaining an "always-on" audit readiness, but without the proper tool set to understand compliance gaps and issues, it's difficult to grasp if you're truly ready for an audit. Inefficient paper-based processes impact how quickly an organization can mobilize around a problem or adapt to industry change, putting them at great risk of failing an audit.
The ever-changing regulatory landscape
While many dread regulatory changes or updates to guidance documentation, these changes are in fact designed to tackle unanswered questions and help guide life science organizations in the right direction. This doesn't mean following and adapting to these changes is easy, and it becomes ever more challenging for those who aren't equipped with the right set of tools. That's where eQMS providers can help; by embedding changes in the regulatory landscape directly into their product. This allows you to stay ahead of the curve by ensuring you're always on the path to compliance (without needing to do the grunt work), as well as take advantage of new functionality.
What type of eQMS should I be looking for?
As with any software category, you'll find a number of different flavors of eQMS platform. Some that cater to specific industries, some to specific quality environments (manufacturing, medical device, etc.), and those that are more generic. It's important as you consider which eQMS platform is best for you, that you explore the nuances in your use case. Maybe an eQMS that is purpose-built for your business processes is right for you, or perhaps a more generic eQMS could fit your use case.
Here's a summary of some of the different types of eQMS systems you might find and should consider:
Generic eQMS platform
Generic eQMS platforms are essentially that, generic. These types of software platforms have been developed to cover most of the basic principles of managing a quality system but may lack some of the more specific functionality you require. It's also important to note that generic eQMS platforms may not have been engineered to meet your specific regulatory requirements, and as such, may require significant configuration, customization, and additional validation work to just be compliant within your industry.

Medical device eQMS
eQMS platforms that are designed for very specific use cases like medical device development can be an obvious choice for medtech organizations as there are likely nuances in these processes that a generic eQMS platform may not be able to handle. In medical device eQMS platforms expect to see dedicated modules to processes like design control management and product management which you likely won't find in other eQMS systems. It's also important to note that these types of eQMS systems tend to be more complex in nature, so even if you are a medical device organization but your needs are quite rudimentary, you may want to start smaller.

eQMS built for life sciences
In the everyday management of quality within life science organizations, processes may vary but they don't differ too much from what is considered best-practice. If you're looking for an eQMS platform that is engineered to processes founded in the life sciences, then this type of eQMS is for you. You'll typically find all the tools you'll need to manage quality in your organization, without any of the heavy configuration or compliance burden.
How much do eQMS systems cost?
We get it, you've got this far in the guide and you're probably already thinking how important it's going to be for your organization to implement an eQMS. But, like any improvement in your business it takes careful planning and investment. So, what does that investment look like?
As we've mentioned throughout this guide, not all eQMS systems are created equal. In previous sections, we talked about the different considerations and varieties of eQMS platforms available. The type of eQMS, the regulations and standards you need to adhere to, and your type of organization are all factors that will impact the level of investment required. The more complex your processes and the wider your regulatory requirements, the more of an enterprise a system you'll require—and the more dollar signs you can expect.
But before we jump into the scary stuff, let's look at what a budget might look like and the components you can expect to pay for.

Setup or implementation fees
eQMS platforms are typically considered enterprise software (the "e" stands for enterprise). These platforms often include a decent amount of configuration, onboarding, and training functionalities to ensure your team's needs are met. With this in mind, you can expect to see costs tied to this.
Some lighter systems that provide more basic functionality may include this in your fees, however in our experience all eQMS systems worth evaluating will have some form of setup fee, typically charged as a one-time fixed cost at the beginning of the contract. You can expect these fees to range anywhere from $10,000 to $50,000, depending on the size of your organization and complexity of the roll-out. We've even seen much higher fees for bigger organizations with large implementations.
Data or document migration
You've probably been generating and keeping records using your existing eQMS or a paper-based QMS. You may decide to archive this content and start fresh in your new eQMS platform, but we see most organizations migrating at least some of their legacy records for continuity.
Migration is largely volume and complexity driven, so the more data and documents or the more complex your migration project is overall, the higher the cost for this activity. Again, migration is typically a one-time cost that you'll find invoiced during the implementation phase. That's because it's when those records will likely be migrated into your new system. Because there is so much variability in migrations, it's difficult to share a definitive cost, but you should budget for at least $5,000 to migrate your content with the expectation that this could climb based on volume and complexity.
Employee training
While we did mention above that training is usually included in the setup and implementation fees of leading eQMS software providers, in some cases vendors split this cost out to bring down the setup costs. If the software providers you're evaluating do split this out, it's important to consider how much training you think you'll need, and if recurring training is required. Some providers may also only offer self-serve, on-demand training to your team. While, in theory, this may sound like a great way to save costs, you will be reliant on the quality of the training content the vendor provides. And if it's subpar, it can leave your users frustrated, lost, and maybe even requiring additional training from your team.
User licenses and your subscription
As most leading eQMS providers, like Montrium, are offering cloud-based solutions (Software-as-a-Service), user licenses typically come in the form of a monthly subscription. However, how subscriptions are structured can vary greatly from organization to organization. Here's a brief breakdown of the different types of eQMS subscriptions you can expect to find as you evaluate different eQMS software vendors. It's important to remember that these different models aren't mutually exclusive, and you may find components of these different models being used in conjunction with each other.
Flat rate pricing
Flat rate pricing usually consists of a single pricing plan where your users will get access to all functionality for a single price, either monthly or annually. While this could seem attractive as costs are predictable, software that typically have this more tend to be more rudimentary or haven't aged well. The adage rings true, you get what you pay for.
Best for: Smaller organizations with basic QMS needs. The TCO will likely be much lower.
Tiered or module-based pricing
As one of the most popular pricing models for cloud-based software, tiered or module-based pricing consists of different price points based on either the functionality or the QMS modules you're looking to use. You may find, basic, pro and enterprise named tiers offering different functionalities or based on the number of users, storage or size of organization you are.
Best for: Organizations that have limited needs initially. They only want to pay for what they really need.
Per user pricing
Per user pricing is like tiered pricing in that you'll typically pay a monthly license fee based on the number of users that will need monthly access. However, standard per user pricing often includes access to all functionality for your users and isn't tiered. In these cases you may also find different types of user licenses; those that are playing a larger contributor role and those that are more read-only or basic.
Best for: Organizations that anticipate having a disproportionate number of basic users.
User block pricing
User block pricing typically is architected in a way where you'll buy a block of user licenses that can be used concurrently. These blocks are often for large volumes of users, with the larger the block the lower the per user fee. Often, you'll also find these models allow for you to be billed only based on active monthly users or how many users in your block have accessed the system in a given month.
Best for: Organizations that aren't sure of the number of basic users they'll require, or that anticipate the volume of users will fluctuate over time.
Platform fee + user pricing
As you could probably expect, there are several variations of the above pricing models that could make more sense for your organization and use case. You may find eQMS platforms that combine both the tiered user pricing model and add a monthly platform fee. The monthly platform fee is often designed to lower the upfront costs, bundling these fees into the monthly fees.
Best for: Organizations that are looking to reduce upfront costs and simplify their subscriptions.
Is there a perfect model?
The short answer is no. Every company's situation is different, and therefore it's important to evaluate what model makes most sense for your business today and in the future.
However, in our research, there likely is a model that combines some of the different principles of the subscription types detailed above that likely works best for life science organizations looking to take their first steps into the eQMS realm. These are the subscription models that combine a monthly platform fee with user pricing.
By combining these two models, organizations can benefit from the predictability of the platform fee model, potentially bringing down their upfront costs, while having a user subscription that best fits their varied needs between those who contribute and those who access content in a read-only fashion.
Here's a quick guide to help you figure out which plan is best.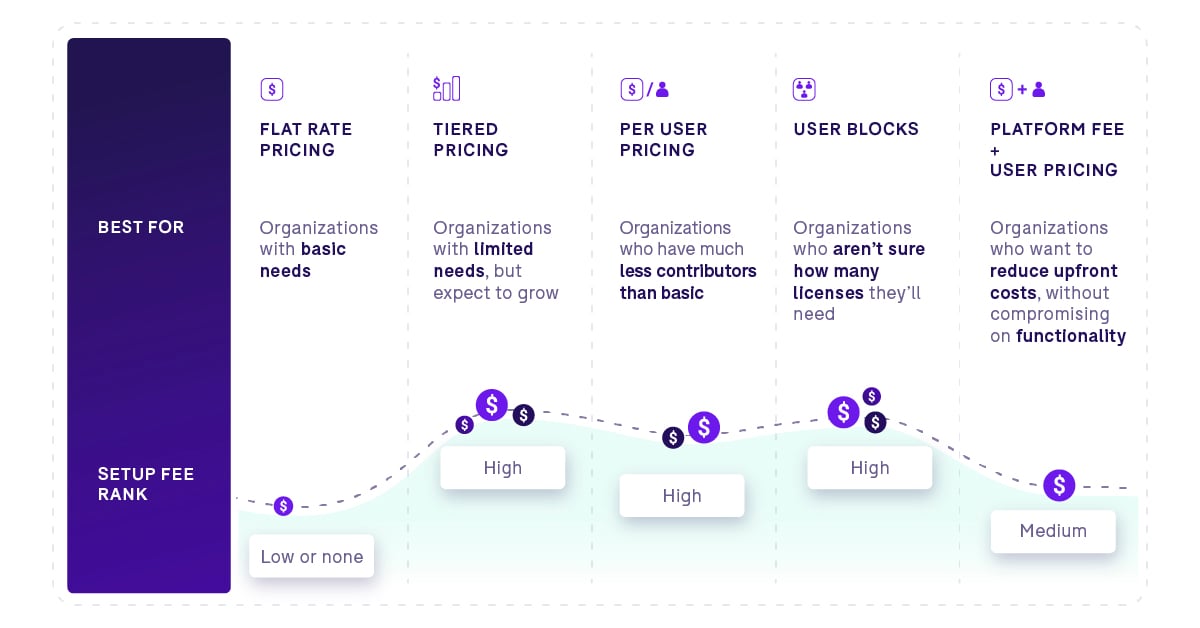 What should you consider before implementing an eQMS system?
To ensure quality management success, we've outlined some key considerations that your team should evaluate before getting started. 
Timelines 
As you begin your journey towards integrating quality management software, you'll realize that some systems can take longer to go live than others. However, longer implementation timelines do not necessarily translate to a bad vendor or a bad product. In fact, one could argue the opposite. Validation and user acceptance testing is vital when implementing new software and as a buyer, you want to make sure that your system is validated for your intended use.  
You also want to make sure that your team are well trained on the system before you go live and that it has been configured to the way your team plans to operate. Spending time during implementation to get things right can seem like it's pushing timelines, but as the adage goes, "if you fail to prepare, you prepare to fail." 
Users 
Something else to think about is who will be using the system. Think about internal business processes, how these people currently interact with the documents, and how they should be interacting with the system. By doing so, you can translate your use case much more easily to the vendor and appropriately evaluate if the solution provides the functionality your team needs.  
Product demonstrations can provide you detailed information about the specific functions and methods of an advanced quality system. As you progress into product demonstrations, you'll realize that eQMS software tends to have a lot of features and functionality to showcase, however, it's important every user has access to functionality they really need.
Business processes 
How are you currently managing your quality system? Is it on paper or file share? Do you have point solutions that help with different parts of your quality management processes, like SOP and training management solutions? Whatever the answer may be, it's important to evaluate the impact and continued need for these solutions as well as the interface between them.  
It's also important to evaluate what positive changes you're looking to make as you move to an eQMS. One of the biggest mistakes organizations make when moving to a new system is trying to translate their current process word-for-word. However, working electronically is different so don't be afraid to change these business processes as you implement. 
Scope 
So, you've taken our advice and evaluated the impact of the new system on your current business processes. But have you considered the scope of the project, what other units may be affected, and if there are SOPs that need to be revised? Even if you're implementing a solution in one specific team, there are other areas of your organization that could be affected by this change. It's critical at this point to evaluate what is in the scope of this project and what is out of scope or planned for a future phase.
Scale your organization and meet compliance demands
In today's complex operational environment, eQMS technology plays a vital role in ensuring that QA is made aware of the issues as they happen. Gaining insight into the performance of your quality management system and the current state of your operations helps you to be more proactive, which minimizes risk and eliminates costly delays.
No matter the route you chose to take in your quest for improving your quality management, there will always be key elements that you need to consider based on your organizations' needs and current situation. Your ability to grow and scale your organization is dependent on how you manage the critical parts of your business.
We hope this guide has given you the theoretical, practical, and actionable advice you need to begin your journey to adopting an eQMS solution.

About Montrium Quality Connect
At Montrium, we've designed our eQMS, Quality Connect, to enable life science companies like yours to tackle the quality challenges you face head-on. All our QMS modules–SOP Connect, Training Connect, CAPA Connect, and Change Connect–can be used independently or together as a fully integrated quality management system deployed in the cloud.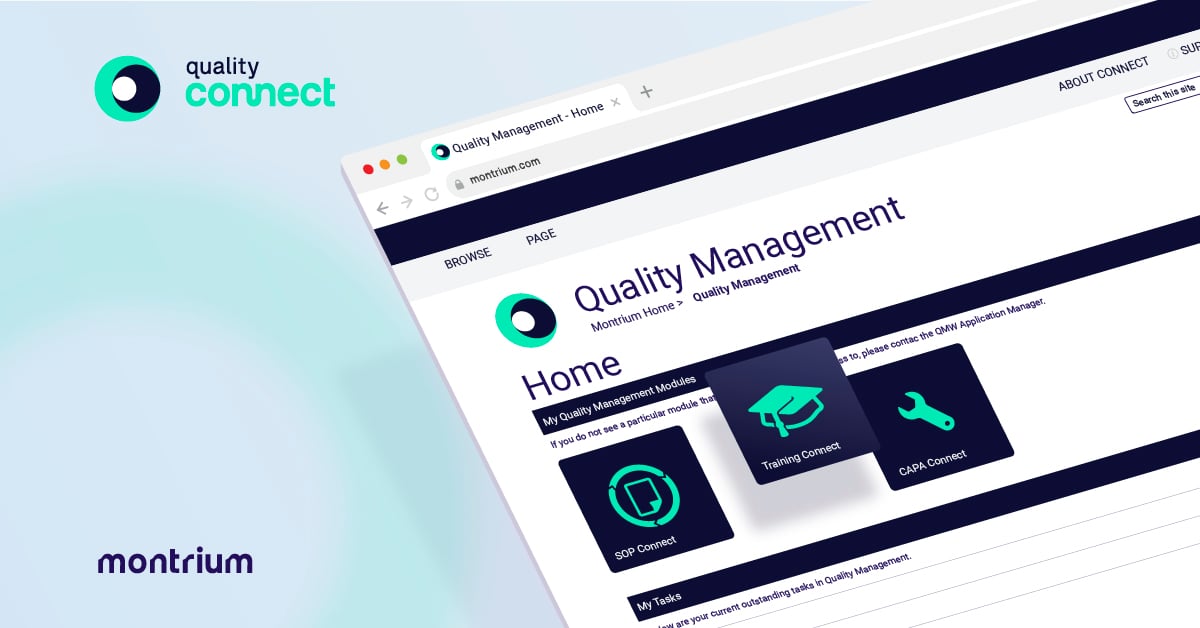 Get our best content delivered straight to your inbox