As Benjamin Franklin once noted, there are only two things in life that are certain: death and taxes. In the pharmaceutical industry, however, there are three things: death, taxes, and standard operating procedures (SOPs).
SOPs govern every aspect of organizations operating within the pharmaceutical sphere—and rightly so. They're necessary to ensure that everything is executed correctly and in compliance with applicable regulations and GxP practices. But what happens when there's a deviation from these SOPs and an incident occurs? A corrective and preventive action (CAPA) process is initiated. And in order to develop an effective CAPA process, what do you need? You guessed it! A strategic, comprehensive SOP.
Below, we'll dive into why creating a targeted SOP for corrective and preventive action in the pharmaceutical industry is important, as well as how your team can develop one and the tools that will help you along the way.

What is CAPA and why is it important?
The general purpose of CAPA in pharma is to track any issues or deviations that occur within your processes or operations. It's crucial for achieving regulatory compliance. Every department of an organization within the pharmaceutical industry must be able to track when something goes wrong. These missteps could be as small as using an older version of a specific form, or they could be much more far-reaching. In a nutshell, CAPA is utilized to capture the event that occurred, detail what happened, do a root cause analysis, determine how to correct it, and see if there's anything you can do to prevent it from happening again.
Companies with proactive risk management approaches even use CAPA in a predictive capacity, running exercises to identify potential risks they may encounter throughout the fiscal year or during a project, which they will then track with CAPA. As our Director of Quality Assurance at Montrium says, "CAPA is so crucial because it's the way to ensure continuous improvement of your quality system and of your approach, your processes, your operations as a whole."
It affects every role and every department in the workplace, and each person has a part to play in ensuring that incidents are reported and followed up on. Managing CAPA in pharma is not without its challenges, however, especially when it comes to scaling teams.
CAPA in pharma: 2 common challenges for scaling teams
Especially in the pharmaceutical industry, CAPA can be very complex and often overwhelming for a start-up or smaller organizations because there's a lot to think about and many tiers involved.
Tiers in CAPA:
Reporting

Investigation

Determination of corrective actions

Implementing preventive actions
With so many moving parts, it's no wonder that many different obstacles can arise related to your CAPA processes. Let's take a look at two common challenges for scaling teams.
1. CAPA can affect everyone in the organization
Staying on top of CAPA can be time-consuming and often requires many members of the team across multiple departments to be involved. In smaller organizations with only a handful of employees, this can amount to a significant drain of time and resources.

2. CAPA requests can quickly snowball if you're not strategic
Another factor that feeds into the complexity of corrective and preventive action management is directly related to the structure of the process itself. When an organization isn't selective about which incidents merit a CAPA procedure, they can quickly become inundated with reports of issues that don't necessarily require CAPA to remedy them. For instance, if a company decides that every issue will be captured using CAPA, they may very well end up receiving a bunch of reports regarding forgotten passwords, minor tech problems, and more. This is why it's extremely important to create comprehensive SOPs for your CAPA procedures.
Creating your SOP for corrective and preventive action in the pharmaceutical industry
So, how can scaling teams develop an SOP for corrective and preventive action in the pharmaceutical industry? Especially one that's able to comprehensively capture incidents without adding undue strain on operations? Like many things in life, there's no one-size-fits-all solution. Drafting SOPs for CAPA in pharma can be tricky. You need to ensure that you're always able to track quality issues that have occurred so that you can determine where there is potential for improvement, but you also don't want to burden yourself with unnecessary procedures.
One method we like to follow at Montrium involves creating a more general incident management process. This process is a catch-all for every incident, which then allows you to capture it and analyze whether the deviation requires escalation to CAPA. It allows teams to leverage a more risk-based approach and be strategic about how they're using their time and resources.
High-level steps for creating an SOP for CAPA in pharma:
Think ahead! Start by determining what the end goal is of the SOP you're writing and work backwards from it. What is the purpose of CAPA? Which incidents will require a CAPA? What is the end goal? What is the potential impact?





Create a clear plan for how the SOP will be structured. How complex will the document be? Will the steps be hierarchical?





Begin planning the logistical aspects of the SOP. This could involve gathering input from your team and determining the scope of the SOP, as well as incorporating aspects of a risk assessment.





Make sure you have a clear idea of whom you're writing the SOP for, including their level of experience and knowledge of the task at hand. For CAPA, this means involving your Quality Assurance team or other relevant departments.





Practice makes perfect! Write a first draft—or several drafts—of the SOP with all of the necessary elements, including its title, identification number, the date, signatures, a table of contents, and the procedure itself. Ensure that you include definitions where relevant, and don't forget any important details about potential roadblocks.





Have your team review the SOP for both clarity and effectiveness. This stage may result in several rounds of edits and could require many rounds of testing the procedures before everyone feels confident in the outcome.





Don't let your SOP stagnate—set a routine review period so that the SOP can be improved as necessary as your organization grows and processes change.
Why an eQMS is your best friend for CAPA in pharma
There's a clear winner when it comes to the best way of managing CAPA in pharma: investing in a powerful electronic quality management system (eQMS). Montrium's cloud-based eQMS, Quality Connect offers both a robust SOP management module and an integrated deviation, incident, and CAPA management module. It helps scaling pharma organizations operate at a level of maximum productivity by removing blockers that slow your SOP authoring and review process, as well as automating the lifecycle of controlled documents and simplifying CAPA management. We checked in with one organization that implemented Quality Connect and here's what they had to report:
100% improvement in streamlining the SOP drafting and review process

80%-100% improvement in streamlining the SOP drafting and review process
In addition to the product itself, Quality Connect users receive SOP templates with their subscriptions. This helps smaller teams get a head-start by offering a product-specific framework for the system and how to segregate roles. Give your team a break and let us do the heavy lifting for you.

CAPA in pharma: next steps
As we've seen, death, taxes, and SOPs are indeed the only three certainties for those working in pharma. However, while they're inevitable, they don't have to be so bad. Let's take a moment to review some of the most important points and how to proceed from here:
CAPA is a critical component of pharma operations and helps to ensure compliance. Your organization needs to develop a well thought-out, targeted plan for CAPA management.

When creating an SOP for corrective and preventive action in the pharmaceutical industry, keep in mind the bandwidth of your team.

Consider a risk-based incident management approach, which allows your organization to be strategic about which incidents need to be escalated to CAPA. This will help to save both time and resources.

If you haven't already, investing in an eQMS is a must for scaling teams. It helps to centralize and streamline your SOP and CAPA management procedures. As an added bonus, you can take advantage of SOP templates to lessen your workload!
Far from a one trick pony, Quality Connect can help your team with more than just CAPA management...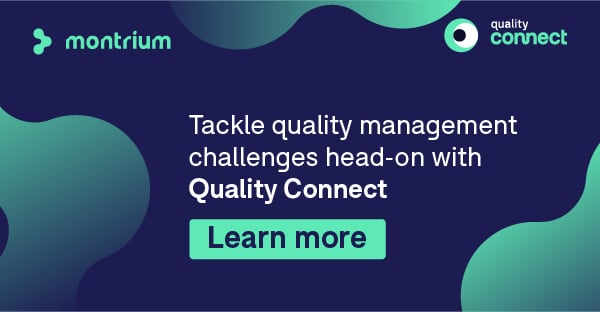 Share This Story, Choose Your Platform!