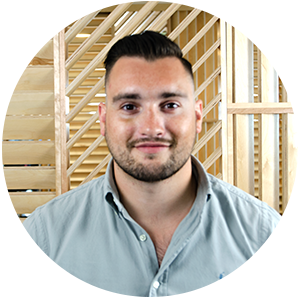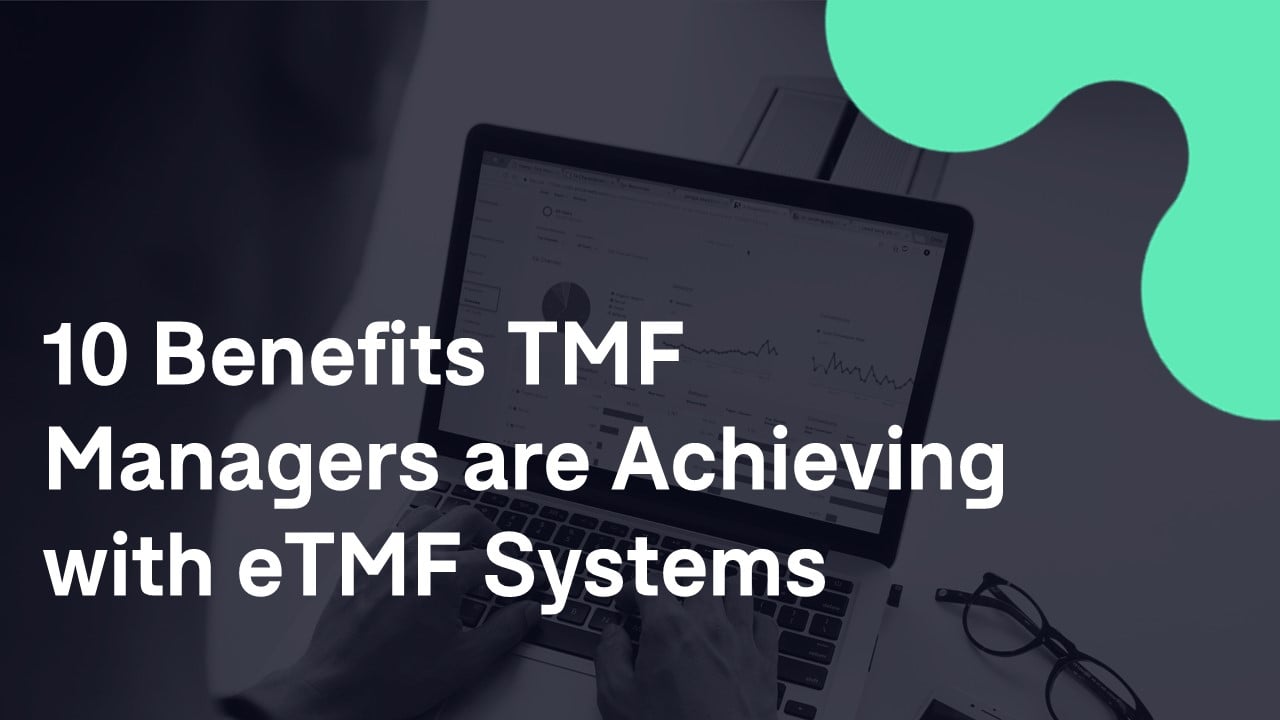 ---
Electronic Trial Master File (eTMF) software solutions have been gaining widespread adoption in the Life Sciences industry over the past few years. Many organizations involved in clinical development are seeing huge benefits and improvements in efficiency after switching from paper TMF processes to an eTMF.
It is often boldly stated in articles that an electronic TMF system will reinvent or change the way you run clinical trials. However, these articles usually lack any real clarification on the improvements that an Electronic Trial Master File solution can actually provide clinical teams.
1A report that surveyed the use of Electronic TMF solutions in the Life Sciences asked TMF Managers what benefits they had realized since implementing an eTMF solution at their organization.
Since identifying these key areas is critical if you're looking to implement an eTMF application, we've deconstructed the report, listed out the benefits and explored in detail why these benefits could (and should) matter to your organization.


Benefit 1.

Real-Time Tracking & Viewing of Documents
One of the standout benefits cited in the report was the ability to track and view documents in real-time. With an electronic TMF tracking your study, anyone with the right access can easily check the status of TMF content at the study, country, and site level in real-time from any location. eTMF systems also make it easier to understand what is already filed in your trial master file, and more importantly, what is missing.
You'll also find additional TMF tools in more advanced eTMF applications, like completeness reports and data exportation, that gives you the ability to track the status and health of the TMF and export data to other systems for further analysis.
In brief: eTMF systems allow users to track the status of TMF content documents; all in real-time and from any location. Along with this, users can access tools like completeness reports and data exportation in order to further their analyses.
Benefit 2.

Easier to Search & Find Documents
An eTMF gives you the ability to create or upload documents directly into the system. Once these documents are uploaded and stored, it's important that users have the ability to search for them based on document metadata and content. In some cases, eTMF systems run these documents through an Optical Character Recognition (OCR) engine to convert PDF documents into searchable text; similar to the way search engines, like Google, work. If you compare this to traditional paper filing systems, the time and cost savings aren't even remotely comparable.
With an eTMF, you'll also be able to organize your documents in a pre-defined TMF structure (such as the TMF Reference Model). This makes it easy to locate, retrieve and view specific documents. Defining the structure of your TMF ensures that documents are being filed in the correct location; allowing you to automate the routing of documents when they're uploaded or created within the system.
In brief: eTMF systems enable users to create and upload documents directly to the system, then allow for the documents to be organized based on a predefined TMF structure. The documents can also be easily searched and retrieved based on metadata and content.
Benefit 3.

Shortened Clinical Trial Time

Increasing the speed to market also means increasing the speed at which sponsors are able to recuperate their R&D investments associated with their products. One of the many ways sponsors achieve this is by optimizing systems to shorten clinical trial timelines. Two areas that often involve a significant number of stakeholders is during study start-up and when teams are closing out the study. Coincidentally, these are also areas in which an eTMF can speed up the process.
Speeding Up Study Start-Up
Having an eTMF system in place during study start-up will allow your team to better collaborate with trial stakeholders on crucial startup documents; removing the need for bulky manual processes that use email or file shares. An Electronic TMF provides a central environment for all of your clinical teams to collaborate together. It allows you to distribute, as well as receive information and documentation much faster to and from sites.
Sites or Monitors can also upload mandatory documentation directly into the eTMF, or send them electronically to the system. This significantly expedites the steps that impact site initiation and patient recruitment.
It's also important to remember that having an eTMF will enable you to create and author documents electronically, subsequently moving them through an electronic review and approval process. Moving to an electronic process for document review and approval can dramatically speed up the time in which documents are created and finalized.
In some cases, users can even generate important documents, such as 1572 Forms and Financial Disclosures, within the system from pre-defined templates and distribute them electronically for a signature to complete the process.
Finally, electronic TMF tools that have embedded analytics can centralize status reporting and provide real-time information on documentation. This extends to regulatory status (at the local and country level), IRB/Ethics Committee status, overall study status, and site status. All of this eliminates the need for study trackers in Excel.
In brief: eTMF systems provide a central location for information and documentation, which allow for improvements in collaboration between trial stakeholders and clinical teams. In addition, the systems can also offer users pre-defined templates for easy document creation, and embedded analytics on documentation.
Speeding Up Study Close-Out
When you look at study close-out, the benefits really lie in the eTMF system's ability to provide real-time insights on the status of your trial master file. Today's leading eTMF systems enable trial stakeholders to efficiently collect and compile the TMF as the study progresses (rather than rushing to collect at the end of the study). Proactively managing your trial master file on a continuous basis can decrease the amount of document chasing required at the end of the study, ultimately speeding up study close-out.
An eTMF system also speeds up study close-out with ongoing quality control (QC) of documentation. Automating the quality control process and performing QC as documents are received, ensures that all documents go through the proper quality control, and are verified and filed correctly. Compiling and QC-ing these documents consistently and electronically within the system while the study is on-going can have a big impact on the time it takes to close out the study.
In brief: eTMF systems progressively and continuously compile the TMF, eliminating the need to rush and collect at the end of the study. Moreover, the system performs automated quality control on all documents.


Benefit 4.

Easier Collaboration with IRBs/IECs

If you're managing a large international study, there are typically many Institutional Review Boards (IRBs) and Independent Ethics Committees (IECs) that you will need to communicate and collaborate with throughout the process. An eTMF system can simplify communications, processes, and collaboration with these groups by having them interact directly in the system. Individuals at these IECs and IRBs can gain direct access to specific documents, and receive tasks to review changes and updates through portals.

These IRB and IEC portals have the ability to significantly improve the way information is communicated and shared, and can even be leveraged to coordinate the communication of safety letters to IRBs and IECs. Managing this electronically can significantly facilitate and improve the 'back and forth' between these groups

Expert Tip: Although there are some clear benefits from using an eTMF system for collaboration with IRBs and IECs, there are also some other groups that can use these collaborative features to work closely with study stakeholders. Independent Data Monitoring Committees (IDMCs) and their counterparts, Data Safety Monitoring Boards (DSMB), typically work with documents that need to be included in the eTMF. Being able to provide the functionality that enables these groups to include these documents directly within the system can greatly improve the timeliness of TMF compilation.

In brief: eTMF systems simplify communications, processes, and collaboration with IRBs and IECs by gaining direct access to documents and through the use of specialized portals.
Benefit 5.

Increase TMF SOP Compliance

When it comes to TMF SOP Compliance, there are two main areas which can become problematic without an eTMF; compiling the TMF in a timely manner and tracking the receipt, review, QC, and filing of documentation. An Electronic Trial Master File system will typically ensure that the mandatory documents and activities are collected and performed as per your procedures, and will flag any outstanding documents/activities that have yet to be fulfilled.
Timeliness of TMF Compilation
Timeliness in compiling the TMF can be a huge problem area. It's important to know which documents you have already filed in the TMF, and which documents are still outstanding. An eTMF system, with the right features, is able to identify required documentation; highlighting which documents are expected and which are still outstanding. This gives the operational team the information they need to ensure all missing documents are submitted and filed efficiently.
In brief: eTMF systems identify all the required documentation, dividing them into filed, missing, or completed documentation.
Tracking & Accountability of TMF Content
The second problem area with regards to TMF SOP Compliance is tracking and accountability. It's important to have the ability to understand and track when the reception, review, QC, and filing of documents is actually happening.
To increase TMF SOP Compliance even further, Life Sciences organizations should leverage the study data held within the eTMF to make better decisions. Essentially allowing you to mine important data to drive other processes. More on this in the next benefit.
In brief: eTMF systems track when the reception, review, quality control, and filing take place.
Benefit 6.

Better Visibility into Key Trial Performance Metrics

With an eTMF system, you have the ability to extract key business intelligence from the information related to the documents in the system. This business intelligence enables you to make better decisions both during the study and when planning for future studies. The ability to understand how long it takes to execute an activity, or what issues have taken place in the past, can drive better planning in the future.

In brief: eTMF systems provide users with the ability to extract key business intelligence from documents, which allow for better long term decision making.
Benefit 7.

Cost Savings

It's often difficult to calculate and demonstrate true Return on Investment (ROI) with electronic systems. However, systems that enhance an organization's ability to be compliant with regulations, or those that decrease the number of manual processes, typically have the highest cost savings across the organization, thus resulting in the highest ROI.

Paper is frequently an expensive material to store and can require a significant amount of floor space if the volume is high. This is often the case during the course of a clinical study. A great deal of the cost related to document storage comes from the conditions and requirements necessary to have in place.

The United States, as well as certain EU countries, are currently extending document retention periods to 25 years, while other regulatory agencies are planning the extension in the next few years. The fact that you could potentially have to store these paper documents for 25 years represents a significant cost.

On the other hand, although electronic storage is much more of a commodity, it is, in fact, decreasing in cost as technology advances and competition rises. Being able to retain information and documents electronically is far more cost-effective and scalable today than it was 20 years ago.

When you move to an eTMF system you immediately begin to avoid the costs related to sending paper documents via mail or courier or those that require manpower to manage the large volumes of documentation. The costs related to managing snail mail, scanning, filing cabinets, and having staff run back and forth to file rooms to retrieve and refile documents can really add up.

We did some number crunching ourselves and created a calculator to estimate the potential costs of managing paper, based on the number of documents you're managing. Plug in some of your own numbers to see how much your paper process is costing you; it might be higher than you think.

In brief: eTMF systems eliminate the costs associated with paper document storage, as well as the costs associated with managing snail mail, scanning, filing and refiling, and document retrieval.
Benefit 8.

Easier Collaboration with Sites
Clearly, there is an overlap in the documents that are managed throughout the duration of the study. Documents that need to be managed in the TMF and the Investigator Site File (ISF) are also going back and forth between CRO/sponsor and site. If you're able to integrate Electronic Investigator Site File (eISF) type functionality into your eTMF system, it makes it easier to collaborate with investigators and sites and store these documents in one central system.
An eTMF can also change the way a clinical monitor carries out their activities during a clinical trial. Electronic systems can facilitate a monitor's job by verifying that all of the required documents have been collected via remote monitoring. This information can be checked and reconciled in the system by the monitor, allowing your team members and the sponsor TMF to ensure the completeness of the ISF.
With an eTMF, you can see how sites are performing as they collect documents to be filed in the TMF, viewing the status of individual site documents in real-time. For example, some clinical site-level documents are required to be replaced on an annual basis, such as medical licences. Rather than manually tracking when new medical licenses are required, an eTMF system can notify you when this needs to take place and clinical team members can request updates from the site right away.
In brief: eTMF systems provide one central location for all documentation, which ensures no documents overlap, and all documents are easily accessible and up-to-date with the latest versions. All of this results in the simplification of the TMF compilation.
Benefit 9.

Improved Audit & Inspection Readiness

One of the most important considerations for companies maintaining Trial Master Files (TMFs) is how to manage regulatory inspections. When a paper TMF is audited, the sponsor, CRO or investigator must ensure that all of the paper records are available and assist the auditor in accessing information. This is a tedious process and involves a lot more manual preparation and work to ensure the inspection goes smoothly.

When you have everything electronically managed in an eTMF, it's easier to evaluate whether your eTMF is complete and ready for an audit or inspection. The eTMF system allows you to clearly see what you'll be presenting to an inspector, which documents have gone through formal quality control, and whether your documents are of sufficient quality.

While a regulatory inspector will want unrestricted access to trial master file content, you are also able to filter the view of the records you have filed. An eTMF gives you the tools to create specific views for inspectors to facilitate their inspection. These views make it easier for the inspector to navigate through the eTMF and find the information they need to review, faster.

What's ultimately the most important aspect of preparing for an audit/inspection is the ability to see if you're ready for the inspection. Through reports generated by your eTMF, you can understand what is required to be ready for inspection, and prepare any unfinished the documentation before the deadline.

In brief: eTMF systems ensure all records, documents, and information have undergone formal quality control and are readily available and accessible. In addition, the system provides tools to facilitate inspection, and reports to keep track of what is required for inspection and what still needs to be completed.
Benefit 10.

Easier Collaboration with CROs

Due to the nature of clinical trials, tools that facilitate collaboration and communications hold an increasingly high value. With an electronic TMF, multiple Contract Research Organizations (CROs) and sites can work and contribute to the same system, segregated by security models and permissions. You no longer have to chase partners to obtain pertinent information, it can all be found within the system.

Unless Sponsors have delegated archiving to a CRO, they are responsible for the retention of TMF archiving. Typically, during manual paper-based clinical trials, there is a large migration effort at the end of the study to transfer the TMF from the CRO to the sponsor. If a CRO has managed the TMF, shipment at the end of the study can be a significant overhead, including trucks of documentation.

However, if the CRO has been working in a central eTMF system since study startup, there is no need for physical transfer of paper documentation for archiving as the documents have been managed electronically.

In brief: eTMF systems provide a central location for all pertinent information; eliminating the need for a physical transfer of paper documents and overhead costs related to document shipment.
---
The Future:

The Convergence of Clinical Data

In the future, we'll begin to see the convergence of data repositories for collecting clinical information. Regulators have already indicated that the future of eTMF won't only include documents, instead, it will also include the data that's held in ancillary systems, such as CTMS, EDC and Pharmacovigilance systems.

All of these systems contain operational or clinical information that gives you the ability to understand the state of your clinical studies. Today, it seems as though this data is stuck in information silos requiring a tremendous amount of data transfer and system mapping to achieve a unified information source.

We are already seeing a greater push to integrate and connect information sources to get one clear picture, rather than small pieces from different information sources. The approach to clinical trial data is no longer about creating mountains of documentation, but about allowing the regulators to retrace key steps and events, and reviewing the history of trial events as they've happened.
The Takeaway
While there are many benefits to moving to an eTMF for Life Sciences organizations, proper planning and strategy will always play an integral part in adopting this new technology. If an eTMF is used effectively, it can – and will – lead to higher efficiency in overall clinical trial processes and, as a result, allow you to get your product to market faster.
1 Paperless TMF Survey: Annual Report, June 2015
Get our best content delivered straight to your inbox