The following infographic has been republished, with permission, from Paragon (Now part of CGI).
Moving to an Electronic Trial Master File (eTMF) system is a decision that can offer a huge number of benefits to a clinical team: increased productivity, centralized and secure documentation, visibility and trackability between sponsors and CROs, major cost-savings, and expanded collaboration across—and between—teams.
That's if—and only if—you make an informed decision as to what you will need when choosing an eTMF system.
Paragon Consulting (now a part of CGI) compiled a list of key features they believe an effective eTMF requires. We agree with them and we believe that their infographic (below) will help you set reasonable expectations for your eTMF buying process. Covering features including core content management, workflows & reporting, security & access control, and clinical trial enablement, with this "cheat sheet" you can enter your eTMF evaluation process informed and ready to make the best decision possible for your team.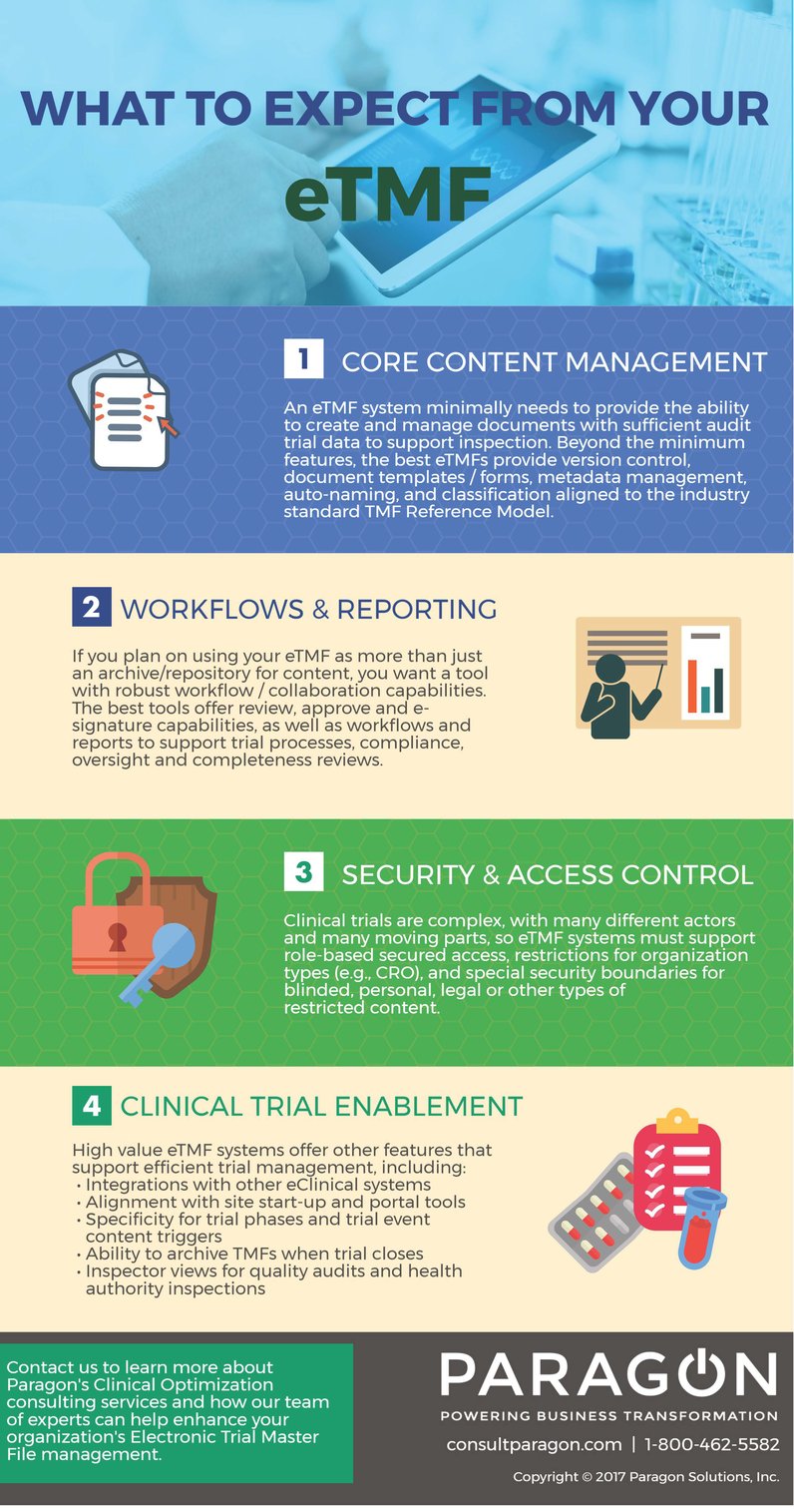 An eTMF system minimally needs to provide the ability to create and manage documents with sufficient audit trial data to support inspection - Tweet This
The best eTMFs offer review, approve and e-signature capabilities, as well as workflows and reports - Tweet This
Clinical trials are complex, with many different actors and many moving parts, so eTMF systems must support role-based secured access, restrictions, and special security boundaries for blinded or other types of restricted content. - Tweet This
High value eTMF systems offer: integrations with other eClinical systems, alignment with site start-up and portals, specificity for trial phases and events based triggers, and inspector views for quality audits and health authority inspections - Tweet This
Share This Story, Choose Your Platform!