Trial Master Files (TMFs) represent a significant challenge for pharmaceutical organizations in today's clinical trial environment. The sheer volume of artifacts and documentation that is required to be created and managed throughout a clinical trial often makes compiling a TMF a lengthy, time-consuming and cumbersome task. Couple this with the distributed and global nature of clinical studies, and you've got an arduous and intensely manual job on your hands.
Even when you've managed to master the compilation and highway of information and documentation coming your way, it's incredibly difficult to leverage the TMF information you do have to make better decisions or prepare for regulatory inspections.
At Montrium, we recently made some pretty big headway in this area, through the introduction of our eTMF Navigator for eTMF Connect. The eTMF Navigator is a real-time business intelligence dashboard that sits on top of Montrium's electronic Trial Master File module to provide clinical operations professionals with better insights into their clinical trial, as well as the ability to build out and manage your entire study within one interface. The eTMF Navigator has brought in some pretty powerful features and we will continue to build out new features over the coming months. Here are 4 areas of the eTMF Navigator that we feel you'll be most excited about.
Check out the new eTMF Navigator Teaser
1. One Interface for TMF Management
With the eTMF Navigator, clinical users can manage their entire TMF directly in one interface, saving valuable time. Users can navigate across hundreds of thousands of TMF artifacts from a single centralized location, enabling them to quickly identify all available, expected or missing artifacts. You can navigate at the study, country, site, and investigator level or by process zone and section making it easy to see subsets of artifacts quickly and intuitively.
Leveraging the TMF structure from eTMF Connect, The eTMF Navigator displays dynamic filtering by process zone, section and artifact as defined by the TMF Reference model. You can also identify what documents you have in your eTMF by using the advanced filter bar to drill down into specific countries and sites, as well as identifying all of the missing or expected documents for a specific artifact.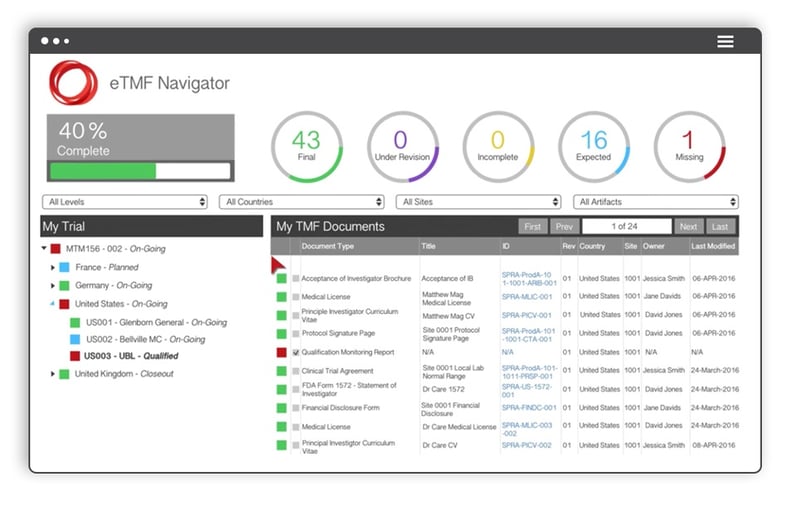 2. Study Build-Out & Progress Management Tools
Whether you have a CTMS or not, you can manage all of the countries, sites and investigators that are participating in your trial directly in the Navigator. There are predefined milestones at each level which allow you to track trial progress and identify the artifacts required at each phase.
Leveraging a range of study build out forms within the navigator, users can get started with only a few pieces of information and add new countries or sites. The eTMF Navigator then automatically creates the site or country and generates a range of document placeholders for expected documents. The required documents will change depending on the site status you've indicated.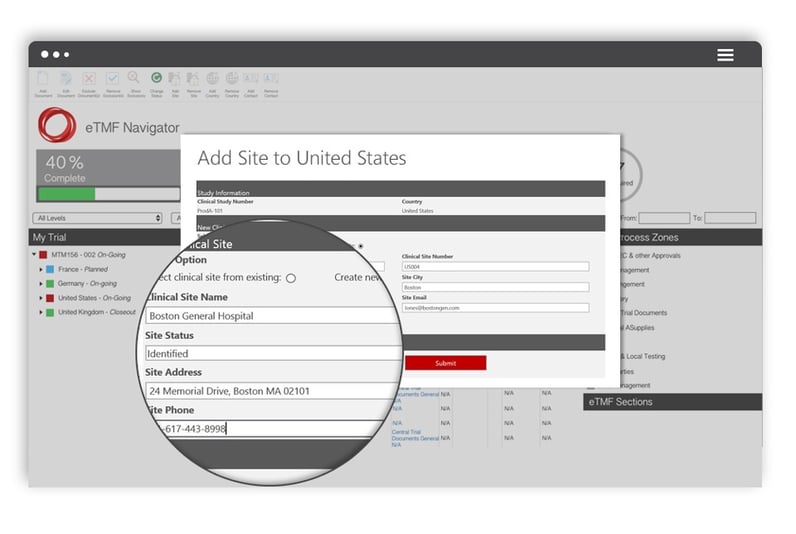 3. Real-Time eTMF Completeness Reporting
Once you've set up your study and are beginning to gather and input clinical documentation into your eTMF using the Navigator, you'll begin to see the visual indicators and the completeness bar update in real-time. As we mentioned above, one of the great features of the eTMF Navigator is the system's ability to automatically generate document placeholders in the relevant process zones and sections based on the DIA TMF Reference Model Structure. Each artifact you create is linked to study, country or site milestone allowing the system to indicate which artifacts are expected and which artifacts are truly missing.
The completeness indicators give you a visual view on the current health of your TMF and can be selected for additional filtering. If you wanted to see all of the expected documents for a specific clinical site, you'd simply navigate to the site in 'My Trial' and then select the blue expected dial. This filtering would list all of the expected documents if there were documents outstanding.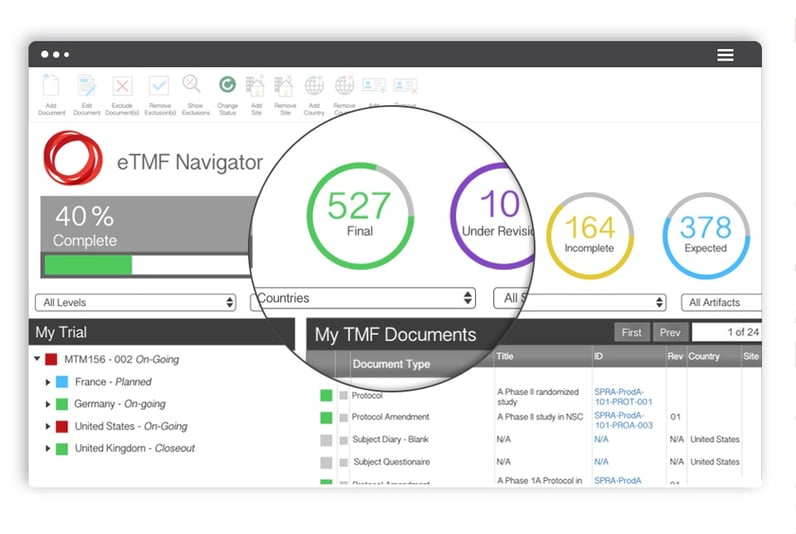 4. Inspection-Ready & Specific TMF Inspector Views
Staying inspection ready in eTMF Connect is greatly facilitated with the use of the eTMF Navigator. TMF Completeness indicators can help you determine what is required for your TMF to be ready for regulatory inspections or audits. The eTMF Navigator also provides a pre-defined dedicated inspector view designed to allow direct access to final artifacts in the TMF. Isolating access to a dedicated interface allows inspectors and auditors to see the TMF categorized by study, site, or specific artifacts resulting in quicker responses to audits and a smoother inspection process.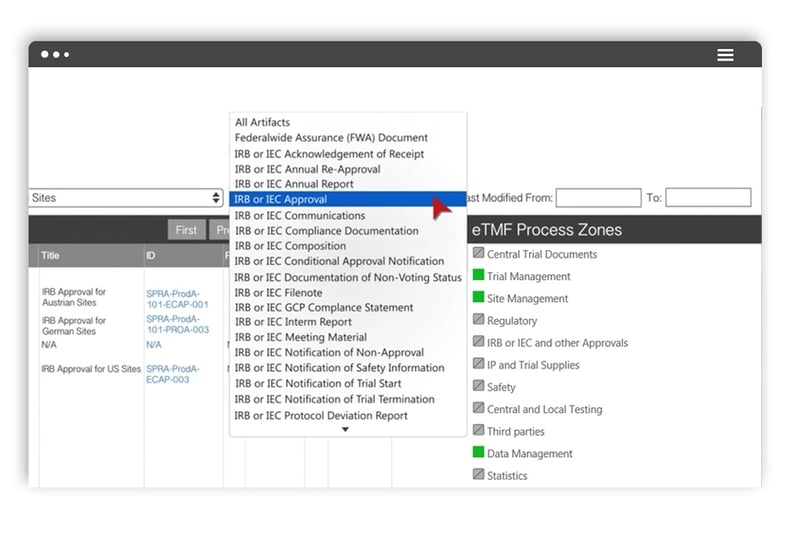 One Tool for all of Your Clinical Content Needs
We continue to see the costs of managing clinical trials rise, and more life sciences organizations relying on CROs for the majority of their clinical trial activity, which often translates in an increase in the complexity of trial master file management. There is a significant amount of resources, coordination and planning required to collect and maintain the volumes of documentation that is generated throughout the course of a clinical trial by all of the trial stakeholders. The eTMF Navigator provides an intuitive and dynamic interface with which to efficiently manage the compilation of your TMF.
Without the proper tools and visibility on TMF completeness in place, pharmaceutical and clinical research organizations leave themselves open to an increased risk of noncompliance and inability to easily find information relating to their clinical trial.
Share This Story, Choose Your Platform!