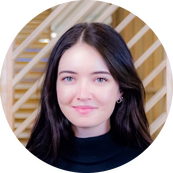 Published on
October 2021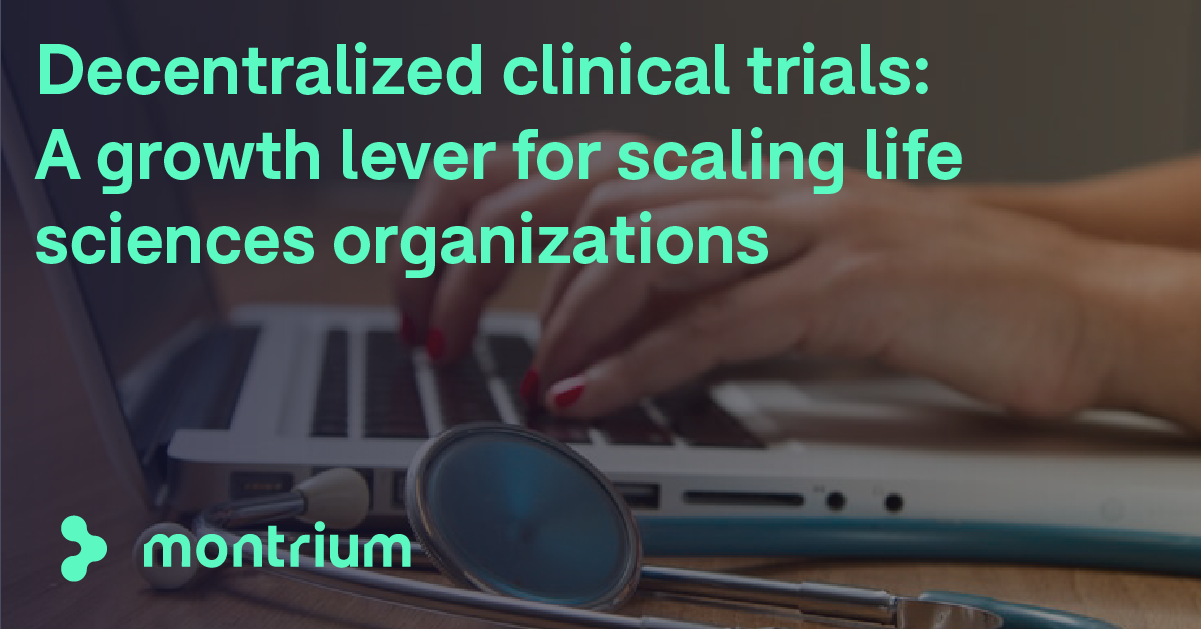 During the COVID-19 pandemic, we've seen a marked boom in alternative clinical trial arrangements that can accommodate the myriad of new restrictions and considerations, such as decentralized clinical trials. But what, exactly, are decentralized clinical trials? Decentralized clinical trials are described by the Clinical Trials Transformation Initiative as "trials consisting of any combination of certain core features, including no physical trial sites used in the trial, all visits performed via telemedicine or mobile/local HCPs, and/or data captured remotely through use of mobile technologies."
For scaling life sciences organizations, the push for decentralization represents an immense opportunity to overcome the impediments that have traditionally stifled growth. Running classic site-based study models in-house adds complexity and demands commitment, yet contracting a third party to run the study can be expensive and time-consuming. With small teams and heavy workloads, scaling organizations—and specifically those in the biotechnology and pharmaceutical industries—need to remain as agile as possible. Fortunately, innovative decentralized trial models offer a powerful solution to these issues.
Below, we'll explore the many advantages of embracing decentralization, as well as outlining the steps necessary for adopting this new approach. Before we delve into specifics, however, it's helpful to understand some of the history behind the decentralized clinical trial movement. How did we get here?

Decentralized clinical trials: a brief history
While the restrictions on movement enacted during the COVID-19 pandemic have indeed catalyzed a period of massive growth within the decentralized and virtual trial industries, we've been hurtling toward a more widespread adoption of decentralized clinical trials (DCTs) for approximately a decade now.
The first wholly web-based clinical trial took place in 2011, when Pfizer conducted its REMOTE trial in which it managed study participation "entirely using electronic tools" and allowed patients to "participate in the clinical trial regardless of their proximity to clinical sites." Since then, the number of organizations offering DCTs or relying on components of decentralization within their clinical trials has multiplied significantly. According to a report from McKinsey & Company, 48% to 95% of sponsors report using elements of decentralization in at least one Phase III clinical trial. These features are giving rise to a number of exciting new key players in the virtual and decentralized trials arena—maybe you've already heard of exciting platforms such as THREAD and Huma, both of which are shaking up the clinical operations industry as we know it.
But why, specifically, are organizations racing to embrace decentralization? And what benefits could it have for stakeholders?
Decentralization and diversity: a makeover for clinical trials
Well before the COVID-19 pandemic, both industry experts and onlookers began to realize that it was imperative to increase diversity and inclusion in clinical trials—and it continues to be a crucial endeavor today. The underrepresentation of minority racial and ethnic groups remains a pressing issue in the domain of clinical trials and medical data collection. As one recent article notes, despite comprising close to 40% of the population, minority racial and ethnic groups represent only 25% of the 32,000 participants in U.S. Food and Drug Administration-approved novel drug trials in 2020. Another article from the Association of Clinical Research Professionals specified that "Black/African Americans make up 13.4% of the U.S. population, but only 5% of trial participants."
Craig Lipset, Co-Chair of the Decentralized Trials & Research Alliance, believes that DCTs could help to overcome these barriers. Speaking at TMF Week 2021, Lipset stated, "There's so much enthusiasm today to try to address racial and ethnic disparities in research participation and so much hope that, even in developed parts of the world, that 'decentralized' can be a part of the solution towards diversity and inclusion." But how? Gail A. Van Norman, Professor of Anesthesia and Pain Medicine at the University of Washington, explains that DCTs minimize logistical obstacles to trial participation, which leads to "improvement of trial access for participant populations that are currently most underrepresented in current traditional trials: the elderly, the poor, those living in remote locations, and many ethnic minorities."
These promising forecasts aren't the only reason that clinical trial providers are racing to adopt decentralization, though. Now, we'll examine the other advantages of DCT models.
Cut costs and carry on: the operational benefits of DCTs
In addition to enhancing diversity and inclusion in the context of clinical trial participation, DCT models promise a number of operational benefits for enterprises. With perks ranging from accelerated clinical development to stronger evidence packages, it's no wonder organizations are swiftly adopting decentralization and expanding into the DCT space. For scaling life sciences organizations, some of the most important advantages include:
A reduced workload for trial investigators

Lower costs for sponsors

Higher profit margins per visit for trial sites

Increased organizational resilience and business continuity
As the report from McKinsey & Company highlights, decentralization "can also reduce the workload for trial investigators, since traditional site activities (such as drug administration, assessments, and data verification) can be performed remotely by others or by trial participants themselves." The reduction in workload can also be accompanied by a reduction in cost, with telehealth consultations costing up to 50% less than in-person visits for sponsors, and they are also able to provide a higher profit margin per visit for the site.
What's more, embracing decentralization can increase organizational resilience and help to ensure business continuity in the case of large-scale disruptive events such as pandemics. As the COVID-19 pandemic took hold in 2020, clinical researchers found it difficult to recruit patients for traditional site-based trials, which has had resounding implications for the clinical trial landscape. "The industry moved quickly and now every major clinical trial sponsor has decentralized trials," stated Tom Lemberg, CEO of Curebase, a DCT provider.
Embracing decentralization: how to prepare your organization
How does one begin aligning their business strategy to succeed in the DCT industry? Going virtual, of course! In the context of a scaling life sciences organization, some of the most impactful changes that can be made include:
Building or expanding virtual infrastructure

Implementing a cloud-based, collaborative quality management system

Transitioning from a paper trial master file (TMF) to a cloud-based eTMF system
Organizations need to build a robust virtual infrastructure in order to support decentralization and facilitate cooperation between stakeholders in many different locales. For starters, clinical trial providers will need to either establish or migrate the management of their training and standard operating procedures. In a decentralized environment, a cloud-based quality management system is a must-have for these purposes. Montrium's Quality Connect software, for instance, enables users to hone their quality processes in complex operational environments and maintain oversight regardless of physical location. Montrium already has a proven track record of helping companies thrive in the decentralized trial arena and recently published a case study with virtual research organization ObvioHealth detailing how.
Another important aspect to consider in this regard is the creation and maintenance of important documents detailing trial progress, including those which will be stored in the TMF. Having a high-quality, complete, and compliant TMF is crucial for study success. Fortunately, we now have our pick of powerful, collaborative software that can help to achieve this, such as Montrium's eTMF Connect. Cloud-based and easy-to-use software like eTMF Connect allows users to seamlessly manage thousands of documents from all over the globe, removing geographical impediments to clinical trial administration.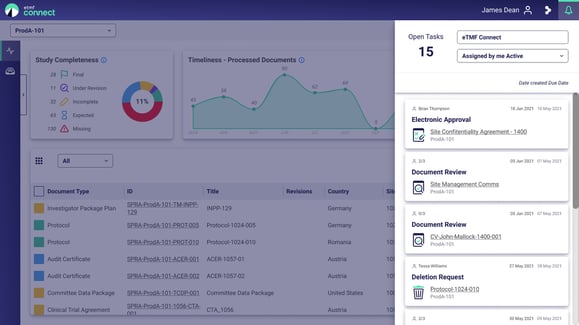 eTMF Connect's simple yet powerful cloud-based technology allows users to collaborate on tasks asynchronously and regardless of their location.
Where do we go from here?
From mass adoption of virtual technologies to the deployment of artificial intelligence, clinical trials are experiencing somewhat of a digital renaissance, with the push for decentralization as a major driving force. With the COVID-19 pandemic having prompted a rapid—and potentially irreversible—transformation of the clinical trial landscape, scaling life sciences organizations need to begin acknowledging and accommodating for the potential longevity of DCT models. Luckily, transitioning to cloud-based, collaborative systems have benefits far beyond simply preparing organizations for decentralization and can aid in improving both efficiency and accuracy across the board.
Key Takeaways:
The shift toward decentralized clinical trial models has been years in the making and won't be slowing down anytime soon, so it's best to ensure that your organization is well positioned to take advantage of it.

Decentralization can help to increase diversity and inclusion in clinical trials by removing logistical barriers to participation.

Decentralized clinical trials offer a number of operational benefits for scaling life sciences organizations, including reduced workloads, lower costs, and higher profit margins.

Virtual, collaborative, cloud-based software—such as Montrium's Quality Connect and eTMF Connect—is crucial for successfully embracing decentralization.
Get our best content delivered straight to your inbox