The role of Change Management and Quality Assurance teams is getting more challenging. With the increasing complexity as R&D becomes more decentralized and outsourced, a lack of internal buy-in for an enterprise-wide quality management approach, and resistance to technological innovation, the effort to minimize the loss of quality while implementing changes has become more difficult than ever.
Change control is a critical component of regulatory, quality, and compliance management in the life sciences industry. It is a formal, systematic approach to managing all changes and modifications with specified controls and policies. A change can include anything that would impact your business processes including time, scope, assignee, all of which can impact quality.
However, many organizations are conducting these activities manually, often relying on antiquated paper forms and documents. Keeping track of all the different types of changes to SOPs, training materials, work instructions, design specifications, procedures, etc., on paper can prove challenging. Imagine the ease of document change control in a modern cloud-based software solution where you can access documents, track changes in real-time, and manage your time and resources much more efficiently.
The ability to manage and control changes is critical for the life science industry to maintain organizational quality, meet business challenges, GxP compliance, and regulatory obligations. Discover how new software capabilities enhance data quality and produce compliant change requests that abide by regulations. CCM software can help you ensure changes are introduced in a collaborative, controlled and coordinated manner to reduce change implementation time and increase efficiency.
What is
Change Control Management
software?
Change Control Management (CCM) facilitates the creation, editing, and tracking of change requests. ​It should be applied whenever there is a change to your organization's processes. One function of the holistic quality management system, CCM includes the oversight and management of the entire portfolio of changes and the activities to manage them.
Your CCM software can have built-in capabilities and controls to ensure that quality is maintained from initiation to approval. With Montrium's Change Connect solution, each change's depth of evaluation conforms to the level of associated risk. It will allow you to manage and monitor live changes with the help of forms and workflows, making sure that all the information related to a change request is documented clearly and concisely.
Most CCM software facilitate each activity in your change control process with standardized form templates that pass on from initiator, to reviewer, and approver. CCM software can initiate and document change requests, put them through the appropriate review cycle, assign necessary reviewers and approvers by predefined rules, and notify users of the change – all so that your requested change moves smoothly through the following stages: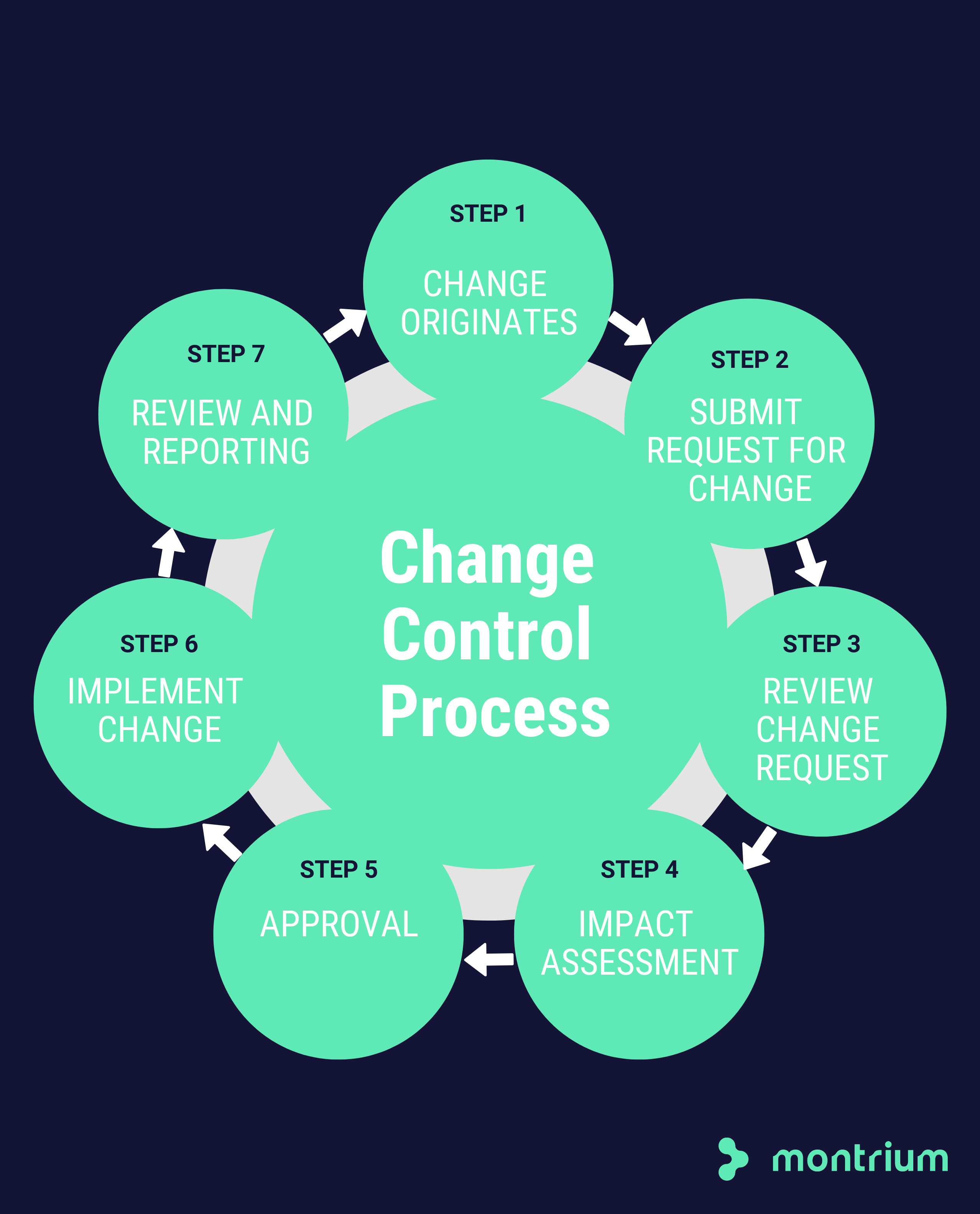 Who needs a Change Control Management software?
Any life science organization that is governed by GxP requirements and ISO standards is required to observe change control management at the core of their quality processes. So, when the time comes to pass an audit, your team needs to know how to quickly locate change control records and demonstrate how they've been handled from person to person, from creation to completion.
If you manage various business units, departments, and sub-departments, then using a cloud-based software can help facilitate all the change records moving between these areas. Your teams will be able to benefit from a dedicated, collaborative environment that is sharing changes to records in real-time. Not only will a CCM software help reduce confusion around who's-doing-what with defined roles and responsibilities, but it will also help to break down the silo-oriented attitude that activities of quality management belong only to the quality control/assurance department.
In summary, a Change Management software will be useful if:
You are looking

to leverage more

automated processes

You want to

better

control

data and drive data

quality

You want more collaboration

between teams, not just your quality team
Of course, there may be reasons why a CCM software is not right for your organization. If you're convinced that the benefits don't fit in the context of your operations, or if you're not ready to commit to making the technological investment and transition – then it may not be the right choice for you at this time.
But if the thought of your next audit brings a feeling of dread, the word "change" incites goosebumps, and you're convinced that using a cloud-based system will reap more benefits than its cost, you should consider looking into CCM software.
How do you decide which change control software is right for you?
Not all systems are created equal, as you can have out-of-the-box change control solutions as well as the more complex point solutions tailored to your specific industry and requirements. To get started with deciding which software is best, here are some preliminary questions to work through with your team to choose the right CCM software:
What are you trying to achieve (i.e. primary business objectives)

?

What are the underlying problems that could be a barrier to working with a new system?

Do

you

have specific business requirements for a new solution?

Does the system adhere to compliance standards?

At first glance, how thoroughly does the solution meet our defined needs? (e.g. user groups, permissions, workflows)

Is the solution used and endorsed by our peers?

Can

you

get a personalized demonstration of the solution?

Does the system feature a user-friendly interface?

What is involved with the implementation of the solution?

Does the solution integrate with our existing systems, if necessary?

What is the Total Cost of Ownership (TCO) and the expected ROI for the solution?
Once you've worked through these questions, assess whether your CCM software provider will act as a reliable technological partner, who prioritizes service, values your success and provides ongoing support throughout your experience with their product.
The Takeaway
CCM software will help you to achieve compliance with GxP requirements and introduce a modern, proactive approach to quality in your organization. When choosing a software, you'll want to make sure you have one that is robust enough to drive quality through pre-defined templates and controlled configurations, yet flexible enough to adapt to your changing organizational needs.
With Montrium's CCM solution, Change Connect, it's easy to request, plan, manage, approve, and control changes, saving you time and resources to dedicate to your higher priorities. Change Connect can easily integrate with your SOP, Training, and CAPA Connect management as part of Montrium's closed-loop Enterprise Quality Management System.
Share This Story, Choose Your Platform!