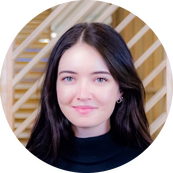 Published on
January 2022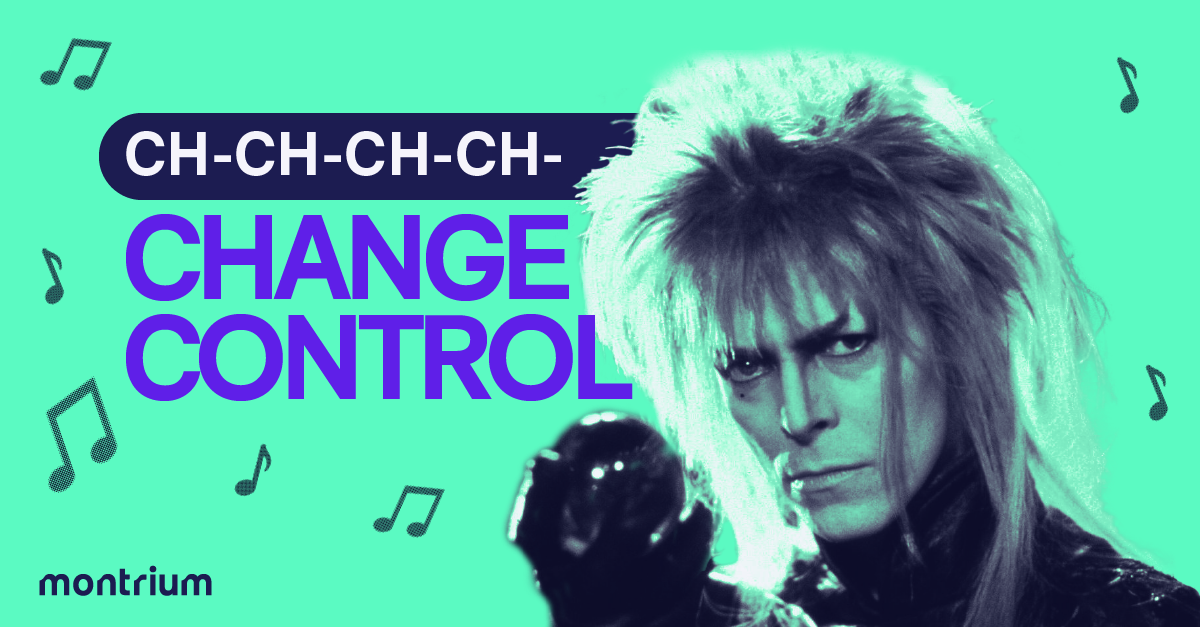 Change is hard—it can have far-reaching effects on people, systems, and mindsets. This is especially true in the pharmaceutical industry as it becomes ever more complex, decentralized, and outsourced. Before implementing a change—whether it be in our personal lives, organizations or systems—there needs to be a thoughtful plan mapped out to minimize damages. Fortunately, we've seen a massive boom in technologies that help to avoid a negative impact on product quality while implementing changes in the pharma industry.
Although it will require some research and planning on your part, mastering change control in pharma is entirely achievable with the help of a few modern solutions. Below, we'll take you through what change control really is and how it affects companies in the pharmaceutical industry, as well as the challenges it presents and how to overcome them. And, as promised, we'll let you in on the secret to managing change control in pharma like a pro.

Change control: what is it?
Change control is a formal, systematic approach to managing all changes and modifications with specific controls and policies. It's a critical component of regulatory, quality, and compliance management in the life sciences industry. It should be applied whenever there is a change to your organization's procedures. A change can include anything that would impact your business operations including time, scope, and assignee, all of which can impact quality. Change control differs from deviation management in that it entails a purposeful and intentional transition from a previously validated state to a new one. The ability to manage and control changes is critical for the life science industry to maintain organizational quality, meet business challenges, GxP compliance, and regulatory obligations.
Change control in pharma
Now that we've wrapped our heads around what change control is, let's take a look at change control in pharma. Change control management is an essential process in the pharmaceutical industry and is crucial for making sure that changes to systems implicated in drug development don't negatively affect pharmaceutical products. By tracking and planning for the effects of potential changes, organizations can ensure that the safety and efficacy of drug products are not jeopardized.
A proactive process helps to ensure that organizations operate in a manner that lends itself to both quality and compliance. It requires that teams create detailed, formal plans to highlight the potential impact and understand various factors necessary for a change to succeed, such as the inputs, outputs, and control limits. In addition to planning, teams must also be prepared to keep records of the completion of each change and analyze the data accompanying it. Finally, they need to keep in mind the need to secure regulatory approval for the product created in the changed state and stay up to date with GMP documentation.
Effectively managing changes begins with establishing a comprehensive change control process, and especially one that's tailored to the pharmaceutical industry. Let's take a brief look at the basics of designing a change control process in pharma.
Designing a change control process in pharma
In order to understand what goes into drafting a solid change control process, you first need to have an idea of what that process generally entails. At the highest level, a change control process includes the following steps: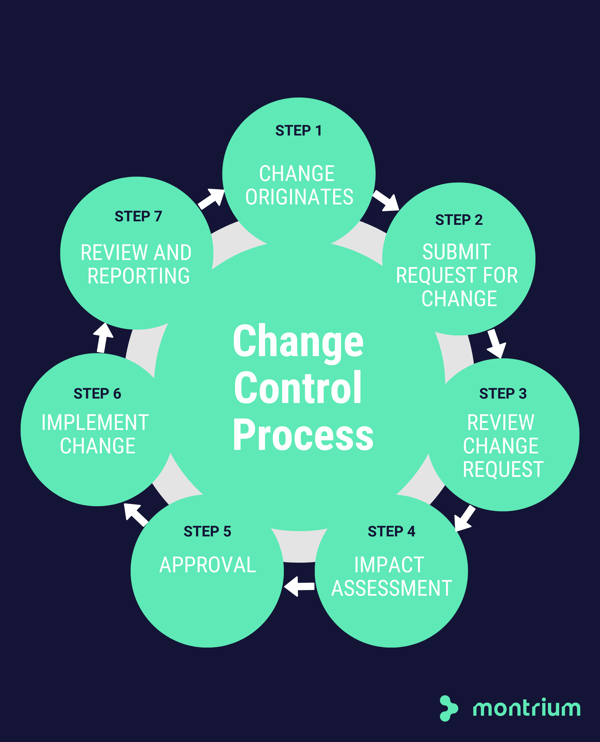 After the change originates, a request must be submitted for the change

The request is then reviewed by the concerned departments

An impact assessment is carried out with respect to the change

If there are no red flags, the request will be approved

Once the request is approved and everyone is aligned, the change is implemented

Finally, the change and its effects must be reviewed and reported

… aaand, repeat when a new change arises!
Using this structure, your team can begin building out a change control process suited to the requirements of the pharmaceutical industry. You should be able to identify the various factors unique to the drug development space, as well as their potential impacts and the applicable regulations.
However, putting pen to paper is only the first step and doesn't guarantee smooth sailing. Keep reading to find out some of the challenges of change control in pharma.
Challenges of change control in pharma
Managing change control in pharma can be a daunting task. In such a heavily regulated industry, your change control procedure needs to be strategic and able to accommodate all of the different changes that occur across many different areas. These changes could involve SOPs, training materials, work instructions, design specifications, procedures, and more. For scaling organizations, it can be especially difficult to stay on top of change control while your team grows.
It's not just the volume of changes that need to be tracked which makes change control in pharma so difficult. It's also how organizations are tracking them. Even today, many teams rely on manual processes carried out with antiquated paper forms and documents. Change control management is a complex task to begin with, but when you add in sifting through mountains of paper records just to perform basic functions, it sounds nearly impossible. A manual process is not only inefficient, but it also drains resources and time.
Change control management software: the light at the end of the tunnel
So, what is the secret to managing change control in pharma like a pro? Change control management software! No matter how solid your processes are or how organized your team is, nothing will make change control more seamless, simple and thorough than using software dedicated to change control. It can help you ensure changes are introduced in a collaborative, controlled and coordinated manner to reduce change implementation time and increase efficiency. Let's take a look at some of the ways change control management software can streamline your processes:
It can have built-in capabilities and controls to ensure that quality is maintained from initiation to approval

It can facilitate each activity in your change control process with standardized form templates that pass on from initiator to reviewer, and approver

It can also initiate and document change requests, put them through the appropriate review cycle, assign necessary reviewers and approvers by predefined rules, and notify users of the change
You can find standalone change control management software, or you can opt for a comprehensive quality management system that integrates change control with other important quality functions for a more comprehensive overview of operations. Montrium's Change Connect solution can be used independently or in tandem with its other quality management modules as part of the Quality Connect system.

With Change Connect, each change's depth of evaluation conforms to the level of associated risk. Designed for scaling life sciences organizations, it will allow you to manage and monitor live changes with the help of forms and workflows, making sure that all the information related to a change request is documented clearly and concisely. We may be biased, but we think it sounds a whole lot easier than all of the printing, scanning, and filing of papers that a manual process would entail. By digitizing your change control process and leveraging the technologies that have been designed to lighten your workload, you can free up valuable time and resources that could be invested elsewhere.
Change control in pharma: the bottom line
When it comes to your change control process in pharma, work smarter—not harder! By selecting the right change control management software, your organization can take advantage of powerful features that will help to not only maintain oversight of changes in general, but will also facilitate the execution of change control-related processes from beginning to end.
Key takeaways
Change control management

affects everything from SOPs, to design specifications, to training materials.

Change control can be a complex task for organizations operating in the heavily regulated pharma industry, but it doesn't have to be!

Change control management software

facilitates the change control process by streamlining the process for requesting, creating, editing, approving, and tracking change requests.

With

change control management software

, scaling pharma companies will be able to minimize risks, avoid delays, and free up resources.
Get our best content delivered straight to your inbox