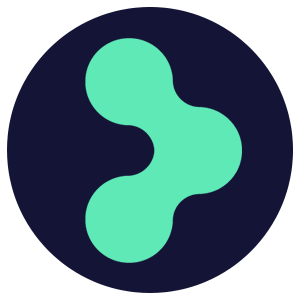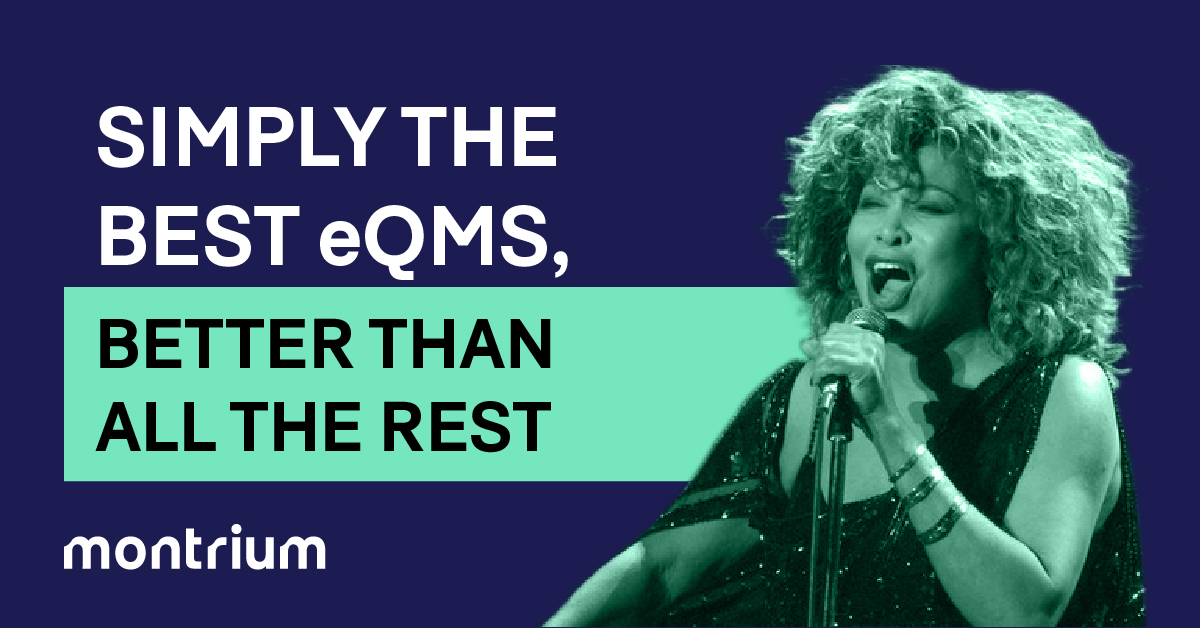 What is an electronic quality management system (eQMS) and why is it essential to scaling life sciences organizations?
Sure, you might be able to keep track of all of your quality documents, your SOPs, your CAPAs, your deviations, and your GxP training in your head…but why should you have to? We'll spare you the obvious rant of "Hey, the whole world is using technology, you should too," but nowhere is this need more apparent than in the complicated, file-sprawling world of quality assurance documentation. Adopting an eQMS, short for Electronic Quality Management System, can seem like a daunting, expensive endeavor. But today, we're going to explain the 10 main benefits of why, as a life sciences organization, you should consider adopting an eQMS as a solution to help streamline your processes and ultimately make your life easier.
With that said, let's talk about the 10 main reasons to at least consider switching to an eQMS, and the benefits of an electronic quality management system for life sciences organizations.
1. Best practices built-in and ready for your team to adopt immediately
Those aforementioned paper-based processes are unfortunately all too frequent in the world of quality and the life sciences industry. It's often incredibly difficult to harmonize around best practices with a paper, file-share or even hybrid process.
eQMS vendors have done the hard work for you by baking in all of the standards, regulations and best-practices so that all you need to do is adhere to them. Adopting an eQMS signals internally that you are ready to adopt these industry best practices and achieve regulatory compliance, providing a jolt of confidence.
2. Leveraging technology allows you to save valuable time and resources
The most obvious pain point that we come across when speaking with existing or future customers, is that they are simply becoming overwhelmed with the amount of documentation and processes to manage manually. Oftentimes, when we've been in Zoom calls with frontline QA warriors, there are paper binders overflowing behind them.
We would argue that time-back is the greatest benefit of adopting an electronic quality management system for life sciences organizations. Technology helps free up valuable time and resources to focus on what's important: scaling your organization to success.
3. Return on investment and the cost of doing things the same way
Let us recount a conversation that one of our sales reps had with a client recently. Client 'X' has two offices, one in Spain and another in the United States. They would print out SOPs for their employees to sign, FedEx them to their office abroad, and then FedEx them back once they have been signed. Frankly, the debate to whether or not to implement become a no brainer here; a simple calculation of the shipping costs and the loss of time made this one an easy one.
4. Sign and distribute documentation electronically
Who's ready to hear us plug our own platform? We are! Most eQMS vendors worth their salt include an integration with an e-signature tool. The poor folks mentioned above were applying wet ink signatures to their quality documentation, which amounted to a massive resource drain. With the industry, and work as a whole, moving toward remote or hybrid models, this allows you to seamlessly adopt a part 11 (or Annex 11 for our European friends) integrated e-signature tool and immediately notice both productivity benefits and cost reduction. Something like Montrium's Quality Connect platform would do the trick here.

5. Compliance with regulatory requirements
Inspections are a part of the job. They usually come with a nice little dose of stress to boot. Especially if you're someone like Charlie. You can alleviate this stress by shifting away from the crazed looking paper trail and adopting an eQMS software.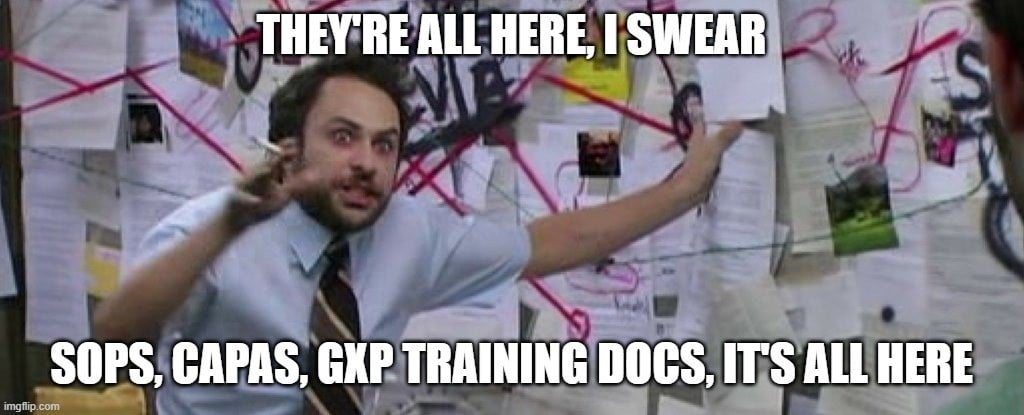 One of the key functions of the better eQMS providers (like ours) have an audit trial built in. This allows for life sciences companies to stay inspection ready, instead of having to scramble to get ready.
6. Streamline your lifecycle management
Onboarding new employees and overseeing SOPs are just some of the requirements involved in maintaining quality control. Paper-based processes are difficult to keep track of, especially as an organization begins to scale.
eQMS allows you to codify your workflows, ultimately streamlining your lifecycle management and keeping it all in one accessible, secure space.

7. Better reporting and business intelligence
It's difficult to glean insights from paper... Unless you want to manually triage your data from all of those binders overflowing in your office. This can bring unwelcome consequences to your business.
A lot of eQMS providers have purpose-built analytics tools as core functions of their systems. Data and analytics are a toolkit. Eschew the manual labour and allow your team to make better informed decisions by implementing a quality management system at your life sciences organization.
8. Document control and adopting a risk-based approach
Fast becoming the dominant industry standard, adopting a risk-based approach allows you to maintain inspection readiness and adopt an overall culture of quality. Harvard Business Review published an article about maintaining a quality culture. It's a bit old, but many of the principles hold true here: Creating a Culture of Quality.
Most of the competitors in your space are adopting this approach, particularly as it pertains to document control. We spoke of the benefits of streamlining your workflows earlier; adopting a widely regarded industry best practice further legitimizes your efforts.
9. Increased internal accessibility and collaboration
Getting employees to collaborate with one another has always been somewhat tricky. This is compounded in the remote/hybrid world we're shifting toward. The FedEx solution is not the one for you.
Rid yourself of waiting on the FedEx truck to arrive and give your employees the tools they need to succeed. Instantly collaborate on documents, such as GxP trainings, and you'll notice that a culture of collaboration will follow.
10. Keep your employees happy and motivated
People inherently get demotivated in unstructured, messy work environments that lack focus and process. Moving toward an eQMS signals to your team that you're ready to move forward, and not backwards, in time. Above all else, a quality management system is a powerful enablement tool for life sciences organizations.
It leverages technology, giving your team the tools they need to stay organized and better communicate their processes. Keeping your employees happy and motivated is an essential part of growing your business.
Adopting a quality management system for life sciences: The bottom line
Traditionally, organizations in this space have relied on paper-based quality processes to manage their documents. At first, maybe it can seem sustainable to print out your training documentation, SOPs, and CAPAs, and then store them in filing cabinets. But as your organization grows and your operations scale, this situation no longer becomes tenable. You'll end up looking like Charlie in the meme above – with documents all over the place. Consider the benefits an eQMS could bring to a team like yours and check out Quality Connect today.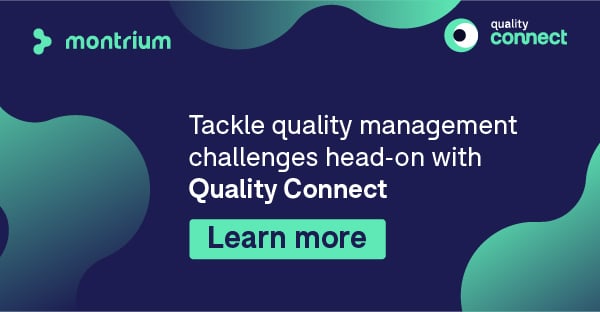 Get our best content delivered straight to your inbox