Published on
January 2015

There are many things to consider when implementing an EDMS in your organization and understanding the level of effort required sits somewhere at the top of the list. One of the ways you can reduce the level of effort significantly is to leverage industry models and standards.
The Drug Information Association (DIA) and the International Conference on Harmonization of Technical Requirements for Registration of Pharmaceuticals for Human Use (ICH) are both widely respected organizations who, amongst other things, are in place to bring together the regulatory authorities and experts from the pharmaceutical industry to discuss scientific and technical aspects of pharmaceutical product registration.
Over the years, these bodies have got together with groups of professionals to create a range of models and standards to guide and help life science organizations to establish a common format and way of working. From these groups, some of the most influential models have arisen.
What models are out there…?
There are several industry models at various stages of maturity, with some being steered by industry groups, and some by associations and regulators. My primary focus today will be on 3 of the most relevant models for electronic document management:
The TMF Reference model (Trial Master File):

provides standardized taxonomy and metadata and outlines a reference definition of TMF content using standard nomenclature. The Model can be adapted to an electronic or paper TMF, and does not endorse, nor require, any specific technology for its application.
The EDM Reference Model (Electronic Document Management):

has been created to facilitate the building shareable EDM repositories with a defined taxonomy and metadata standard, The EDM Reference Model for the Regulatory-Submission process zone was developed by members of the Drug Information Association (DIA). It consists of an Excel spreadsheet containing the taxonomy and metadata recommendations for managing CTD/eCTD documents intended for inclusion in regulatory submissions.
The ICH eCTD (Electronic Common Technical Document):

allows for the electronic submission of the Common Technical Document (CTD) from the applicant to the regulator. While the table of contents is consistent with the harmonized CTD, the eCTD also provides a harmonized technical solution to implementing the CTD electronically.



Both DIA models and ICH standards are becoming widely adopted initiatives; in a recent survey conducted by the TMF Reference Model, 57% of life science companies are currently using the model, which is a promising increase of 32% from 2010. Thus, leveraging these models means that your organization will be aligning with well-accepted standards and models, actually being used in industry today.
Initiatives are already underway to build an interchangeable standard based on these models. This would allow for multiple document repositories to interchange content and metadata and also facilitate the transfer of TMF or Regulatory documents between stakeholders i.e. CRO to Sponsor or between drug development partners – but that's a whole other post.
The great thing about leveraging these industry models and standards is that somebody has already done all the hard work for you. The TMF Reference Model and EDM Reference Model developed by DIA members, as well as the eCTD guidelines created by ICH are great references and all are the result of months and even years or work by groups of experienced industry experts. For a single organization, even a large one, it would take a lot of work and a lot of resources to replicate the effort that these groups have already put forth.
How it works for you…
Using these well-respected resources can save you the time and effort when setting up a standard for your electronic solution. These groups collect input from varied experts in the life science industry, such as leaders in pharmaceutical companies, CRO's, consultants and even industry regulators. Having input from regulators is a big benefit because you have the advantage of knowing what regulators expect to see. This can also help facilitate regulatory inspections if an organization is following a model. Furthermore, the teams behind these models include clinical documentation and technology experts, which allows for a model that meshes well with cutting edge technologies.
What about Taxonomy?
Following an established taxonomy model can help ramp up new employees. As models become widespread, new employees will find it easier to become familiar with the models, right away focusing on producing valuable work as opposed to having to learn a new set of terminology and taxonomy. You will also find that leveraging these models may eliminate some of the longer-lasting issues that are at the root of organizational turf wars and politics surrounding documentation structuring.
The Takeaway
Working with several clients to implement electronic document management systems (EDMS), we always encourage our clients to leverage these models and standards to save them time and effort. The clients that utilize these models as a guide tend to finish on-time and on budget.
Those that don't use models and customize their document types and metadata, end up taking several rounds of review which tends to push the timelines and ends up costing more. There's no doubt that implementing a company-wide EDMS can be a big endeavour, so consider maximizing your effort and taking advantage of the work that's already been done for you by industry experts.
Are you currently leveraging any of these models to save you time and money in your EDMS implementation? If so, leave us a comment below!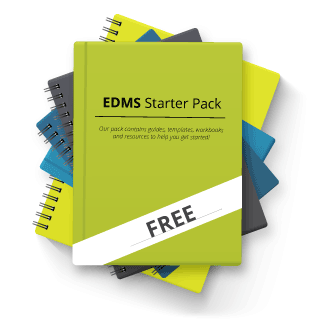 Get our best content delivered straight to your inbox