Published on
January 2020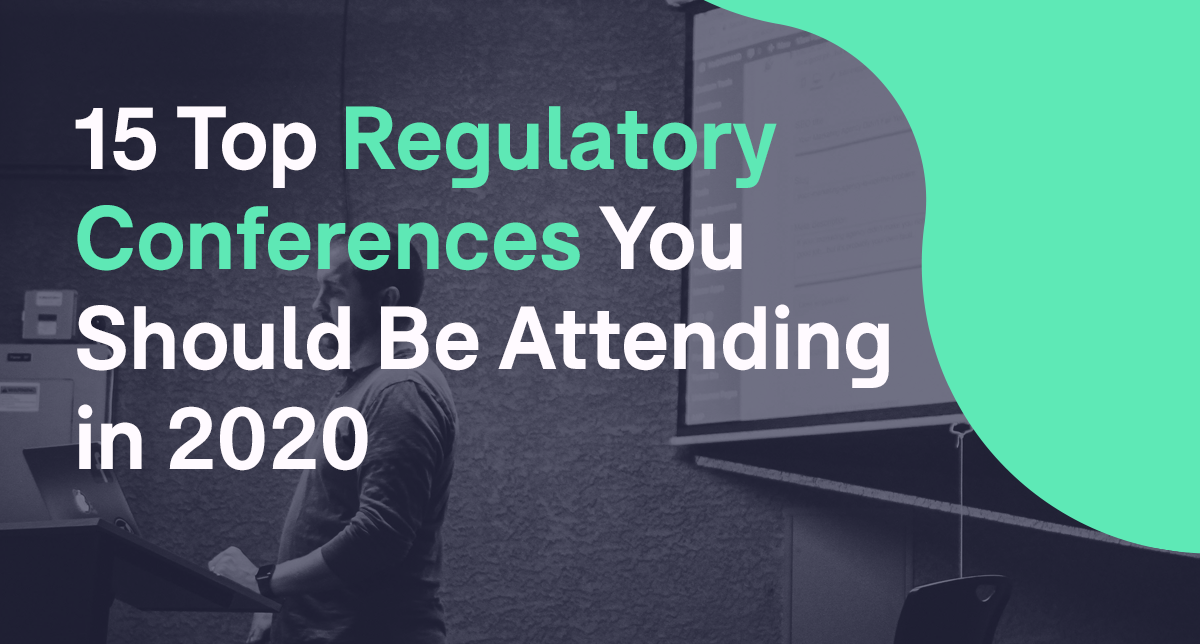 Whether it's learning new regulatory skills from the agencies and advice from your peers, or keeping up with industry information, the return on investment of attending the right events can be substantial and critical for your regulatory process.
As a technology vendor, Montrium frequently exhibits, speaks, and advises at conferences all over the world, and we know it's difficult to know which conferences are going to give you the best return on your time and money. Therefore, we thought it would be a good idea to point you in the right direction by providing a helpful list of upcoming regulatory conferences in 2020.
For this edition of top conferences, we've focused on events that help keep you up-to-date on changes in regulatory affairs and developments. These conferences will provide you with all the information and insights you need to know about the ever-evolving regulatory environment. 
UPDATE: Due to the popularity of this article, we wanted to ensure the information we had written was still relevant. We've gone through our list and removed some events that won't be running in 2020, and added new events that you just have to attend this year!
In chronological order, here's our list:


January 30-31, 2020 | Amsterdam, Netherlands
Attend this event to further your knowledge on recent regulatory and scientific hot topics affecting your daily work. You will be able to engage in fruitful discussions with 200 participants including the competent authorities and well-known industry experts. Some topics on 2020's agenda: New EU political landscape – how will it impact the pharmaceutical regulatory environment? Why is it the right time now to review the EU Variations Regulation? Regulatory measures to respond better to issues of medicines shortages, and more.

Learn more here - https://www.medicinesforeurope.com/events/rac20/
2. Regulatory Submissions, Information, and Document Management Forum (RSIDM)
February 10-12, 2020 | North Bethesda, MD
Year after year, the RSIDM Forum provides numerous opportunities for networking and knowledge-sharing between attendees, vendors, and presenters of both industry and health authority representation (FDA, Health Canada, and other regions of interest). The three-day conference will cover topics in the following four tracks: the RIM principles, effective processes and tools, benefits to data applications across the product lifecycle, and examination of real-life results. Each track is supported with daily plenary sessions that provide regulatory intelligence updates given by health authority representatives.
Learn more here - https://www.diaglobal.org/en/conference-listing/meetings/2020/02/regulatory-submissions-information-and-document-management-forum
Feb 24-25, 2020 | Miami, FL
The DIA Latin America Regulatory Conference brings together a global network of life sciences professionals to foster innovation that leads to the development of safe and effective products and therapies to patients. Discussion topics include various initiatives related to global regulatory convergence and harmonization and their impact on access to medicine, regulatory reliance, and future R&D in Latin America.
Learn more here - https://www.diaglobal.org/en/conference-listing/meetings/2019/02/latin-america-regulatory-conference


April 21-23, 2020 | Berlin, Germany
This three day summit will focus on 3 streams: Regulatory Data Management and Submissions, Regulatory Affairs in Emerging Markets, and European Regulatory Affairs. Each stream will provide information and knowledge on global regulatory compliance and requirements through talks by regulatory authorities and industry experts.
Learn more here - https://lifesciences.knect365.com/global-regulatory-affairs/



April 23-24, 2020 | Boston, MA
Optional Pre-conference on Device Regulatory Basics April 22, 2020

This two-day conference will focus on device regulatory basics and address prior year attendee topic requests, new technology, medical advances, as well as new or updates to regulations, standards and guidance. Attendees will hear from and discuss issues with experts from FDA, site, industry, and clinical research support organizations in the medical device research and regulatory fields.
Learn more here - http://www.socra.org/conferences-and-education/live-conferences/Device-Conference/program-information/

May 11-13, 2020 | Brussels, Belgium
RAPS Euro Convergence 2020 will offer expansive content designed by European regulatory affairs professionals for European regulatory professionals. You will walk away with actionable insights from discussions on the most pressing regulatory topics. A wide range of current issues facing medical device, pharmaceuticals, IVD and regulatory professionals will be covered, as well as general subjects that impact all professionals in the healthcare products space.
Learn more here - https://www.raps.org/europe-2020/home


7. 9th Annual Pharmaceutical Regulatory Operations & Submissions Conference
June 25-26, 2020 | Boston, MA
The continued push for harmonized global regulations and impact of new technological capabilities has confronted regulatory operations executives with a multitude of hurdles to overcome while ensuring timely and compliant dossier submissions. Bringing together regulatory operations and submission executives at this annual program, allows organizations to learn best practices in the compilation, formatting and submission of a variety of approval applications.
Learn more here - https://www.q1productions.com/regops/download-agenda/
Date and Location TBC
The eRegulatory Submissions Summit will cover electronic submission processes and protocols for constructing strategies for IDMP, RIM, global and regulatory submissions. The regulatory submissions landscape has been confronting with many evolving regulatory changes, trends and challenges and it's important that regulatory professionals properly manage submissions. This event will appeal to professionals working in regulatory affairs, medical writing and publishing, eRecords Management, IDMN, clinical data and clinical trials management, outsourcing, and quality assurance. 
Learn more here - https://exlevents.com/eregulatory-submissions-summit/
Date and Location TBC
Regulatory medical writers are faced with the challenging prospect of preparing applications and documents for submission to global regulatory authorities. The 7th Clinical Regulatory Medical Writing Forum will provide attendees with the strategies and insights needed to efficiently compose clinical regulatory documents, manage in-house and external resources, effectively execute the writing process, and understand the recent developments in regulations. 
Learn more here - http://exlevents.com/clinical-regulatory-medical-writing-forum/



Date and Location TBC
GRx+Biosims 2020 is the premier scientific and regulatory event for the U.S. generics and biosimilars industries, featuring timely programming relevant to technical, regulatory, policy and legal professionals. Top officials and subject matter experts will share their knowledge and best practices to enhance attendees' understanding of how to succeed in generic and biosimilar development, regulatory process and approvals, and the evolving policy landscape.
Learn more here - https://www.grxbiosims.org/
New Delhi, India (Date to be confirmed)
International Conferences of Drug Regulatory Authorities (ICDRA) have been held biennially since 1980 with the aim of promoting exchange of information and collaborative approaches to issues of common concern related to regulation of medical products. As a platform established to develop international consensus, the ICDRA continues to be an important tool for WHO and national regulatory authorities in their efforts to harmonize regulation and improve the safety, efficacy and quality of medical products.
Learn more here- https://www.who.int/medicines/areas/quality_safety/regulation_legislation/icdra/en/




12. RAPS Regulatory Convergence
September 12-15, 2020 | San Antonio, TX
RAPS is a gathering of the global regulatory community for the healthcare products industry. It brings together professionals from all domains of the life sciences in order to share the latest industry knowledge, network and learn more about the new things that are happening at the FDA, EMA, Health Canada and more ministries of health around the world.
Learn more here - https://www.raps.org/convergence-2020/home

October 5-7, 2020 | Brussels, Belgium
The Organization for Professionals in Regulatory Affairs' premier 2020 European conference for professionals in all healthcare sectors of regulatory affairs in collaboration with Belgium's FAMHP. This year is themed around the question: The evolving world of regulatory affairs: innovate regulation or regulate innovation? Held yearly since 2004, TOPRA is the one of the biggest conferences in Europe dedicated to healthcare regulatory affairs, with a programme encompassing the topics most relevant to those working in healthcare regulatory affairs.
Learn more here - https://www.toprasymposium.org/



Date and Location TBC
The Pharmaceutical Compliance Forum (PCF) is a not-for-profit membership organization for Compliance and Legal professionals from pharmaceutical and biotechnology manufacturers. The mission of the organization is to promote effective compliance programs through education, networking, and sharing of current best practices. The Congress is the oldest and largest gathering of pharma and device compliance professionals and in-house counsel who come together annually to discuss best practices in legal and regulatory compliance. 
Learn more here - https://www.pharmacongress.com/
Date and Location TBC
This forum brings together leading global pharmaceutical industry professionals and regulators to share their insights on technologies, approaches, and solutions that will drive innovation and quality for the medicines delivered to patients worldwide. You will have the unique opportunity to raise questions and engage in discussion with global regulators and industry experts.
Learn more here - https://ispe.org/conferences/2019-global-pharmaceutical-regulatory-summit

Did we miss one? Comment & share below which regulatory conferences you'll be attending this year so we can update our list!

Get our best content delivered straight to your inbox