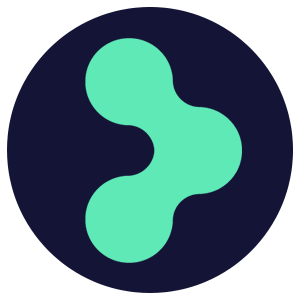 Published on
January 2017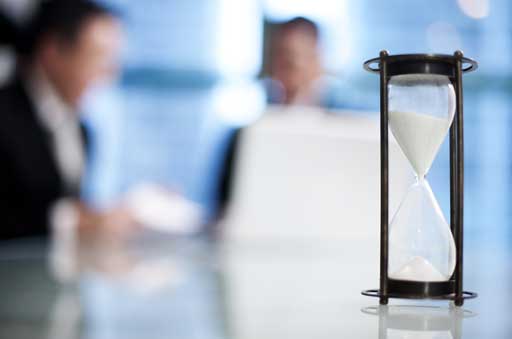 As regulatory agencies become more sophisticated and experienced with electronic tools, guidance and regulation have emerged pertaining to the electronic transmittance of applications for new drugs. The FDA, as well as other regulatory agencies, have now taken key steps in moving towards requiring that all submission types be provided electronically in eCTD format. This means that that, as of the effective dates, life science organizations must provide their submissions electronically in alignment with this standard format.
In May of 2015, the FDA issued final guidance that laid out the rules and specifications for providing regulatory submissions in electronic format, as well as publishing a mandatory implementation date for when electronic submissions will be required by the agency.
For many organizations, this will be business as usual, after all, submissions in the eCTD format were used for 87% of NDA related submissions as of the end of 2014. However, the guidance opens the deadline up stating that all NDA, BLA, ANDA and Master File eCTD submissions will be compulsory beginning May 5th, 2017, with commercial IND eCTD submissions becoming mandatory starting May 5th, 2018. This may be slightly new territory for some organizations.
In the following article, we'll be looking at what eCTD is, the breakdown of what's required and what you need to do to prepare for the eCTD deadline.
---

What is eCTD?
The Electronic Common Technical Document (eCTD) is CDER/CBER's standard for electronic regulatory submissions and was designed initially to make regulatory submissions easier and more efficient for drug makers and for the regulatory agencies. Much like other standards, eCTD provides a common global standard for companies who wish to submit their regulatory submission electronically, including all of the quality, safety and efficacy information that is required by the authorities in the approval of new drugs.
eCTD is a widely recognized standard and is applicable for submissions to agencies in the major markets: the United States, The European Union, Canada and Japan. This standard, which can be used for submission for NDAs, BLAs, DMFs and INDs, is highly recommended by the FDA and is a minimum requirement for Centralized Procedures in the EMEA regions.
Here's a great diagram explaining the way the CTD works, and the modules that are contained within it.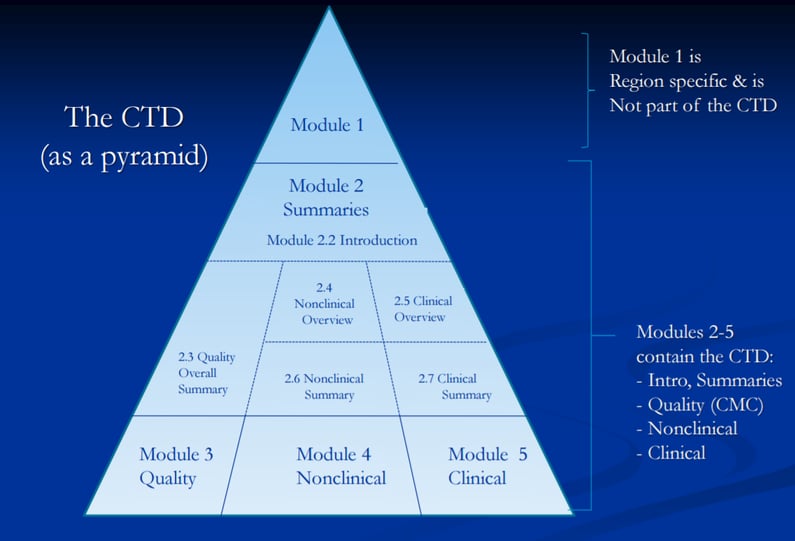 The Benefits of eCTD tools
The eCTD format allows regulatory agencies to access submissions via a computer interface, enabling them to search, copy and paste and review content much more efficiently. Completing content reviews online saves agency staff time, and ultimately speeds up the review process – allowing your drug to get approved faster. In addition to a more efficient agency review, and reduced costs in shipping physical documents, adopting the eCTD format in preparation for the deadline, and moving towards a software tool has many advantages:
Reading documents is easier as most documents having been created electronically in an electronic document management system (EDMS) like RegDocs Connect
By operating electronically organizations save incredible amounts of space
An electronic gateway can be implemented to submit electronically to the authorities
Documents can be re-used across multiple submissions
It's easier to navigate between documents and dossiers
Collaborative authoring, review and approval if connected to an EDMS
Search tools allow you to find information much faster
The Evolving Regulatory Landscape: A Brief History of e-Submissions Requirements
Antoinette Azevedo, a leading regulatory compliance specialist and industry expert on eCTD recently published a great overview of the history of e-Submission requirements.
FDA Centers for Drug Evaluation and Research (CDER) and Biologic Evaluation and Research (CBER) has required submission of electronic case report tabulation (CRTs) and case report forms (CRFs) in electronic format for new drug and new biologic license applications (NDAs and BLAs) since 1999.
FDA CDER has required package inserts to be submitted in electronic Structured Product labelling (SPL) format since October 1, 2005.
The FDA CDER has required electronic submissions to be presented in the electronic Common Technical Document (eCTD) format since January 1, 2008.
FDA is requiring the content of the Drug Establishment and Drug Registration forms to be submitted in electronic format beginning June 1, 2009.
FDA has published the proposed rule that retired previous electronic submission formats and set the stage to require all submissions be in electronic format using the eCTD organization structure and electronic navigation aids.
The electronic submission juggernaut is not limited to the US market:
The European Medicines Evaluation Agency has announced a timeline which requires all agencies participating in the centralized procedure for marketing authorization applications (MAA) to begin submitting electronic format on January 1, 2009, and in the eCTD format on January 10, 2010.
Health Canada has published the timeline to require electronic submissions in eCTD format.
The Japanese Ministry of Health Labor and Welfare (MHLW) has begun accepting electronic submission in the eCTD format.
Finally, there is an international effort underway with involvement by regulatory authorities and industry to define the next generation of bi-directional communication of regulatory submissions' content in a messaging format called Regulated Product Submission that is intended to address electronic submission requirements for all products regulated by FDA: drugs, biologics, devices, veterinary medicine, food additives, and cosmetics.
(Source: Antoinette Azevedo of e-Submission Solutions) You can learn more about Antoinette and her company e-Submissions Solutions here.
Understanding the eCTD Requirements before you submit
Technical Requirements
Since electronic submissions to regulatory agencies were introduced in the late nineties, Adobe PDF has been the baseline standard for content delivery. The eCTD includes PDF documents containing the required information for the application, linked via an XML backbone.
We've all used PDF once or twice in our lifetime I'm sure, whether it's a flight booking confirmation or an annual business report at work, PDF is widely used in our personal and business lives. However, when it comes to submitting applications to regulatory agencies electronically, there are very specific requirements for the format and navigation specification within the PDF files that are submitted. Agencies have even refused to review electronic submissions for organizations that provided PDF files that lacked the minimum specifications required.
A sure-fire way to ensure you meet the technical requirements is to author these documents electronically from templates in Microsoft Word. Some Electronic Document Management Systems, like RegDocs Connect, allow you to author documents directly from within Microsoft Word, automating the entire review and approval process and ultimately converting the document to the correct standard format in PDF once finalized. The PDF conversion engine is pre-configured to convert documents to PDF applying the appropriate formatting and navigational aids as per the regulatory requirements.
PDF Requirements
Alongside the regulatory authorities' requirements for PDF technical setup, there is a range of requirements that govern the formatting of PDFs. More specifically, the agencies stipulate that PDF files submitted electronically should fit within their predefined page size guidance, have adequate margins surrounding each page, as well as content being displayed in a legible font type and font size. For reference, here's a summary of the specification you should be shooting for:
US Letter page size for FDA
A4 Pads size for Rest of World
One inch margin surrounding all four sides of pages, with an additional margin where binding edge to be placed (to avoid issues if documents need to be printed)
Content is to be provided in either Times New Roman or Ariel font, with body text in 12 point and tables no smaller than 10 point size.
Display Requirements
Now that you have a handle on some of the technical and formatting specifications, it's important to understand what work you'll need to do to ensure you meet the display requirements. To begin with, all of your PDF files should be converted in version 1.4 of Adobe and configured to open as Fast Web Preview. Again, if you plan to use an EDMS to author and manage documentation the PDF engine that is provided as part of the solution should be flexible enough to satisfy these requirements.
In addition to configuring for previewing, it's important that you set up the PDF to open to the page of legibility. Again, if you're using an EDMS or simply converting Word files to PDF through another tool, you should be able to automatically apply this to the files you're creating.
Scanning PDFs
As a best practice, submitting electronically to regulatory agencies usually involves documents that have been created and managed electronically, making them easier to index and search when they're being reviewed by the agency. However, if you have paper copies of documents and you want to include them as part of an electronic submission, it's critical that they be high resolution and of sufficient quality. You will also want to run these documents through an Optical Character Recognition tool, to index the flattened content of the scanned document, making the content within it searchable.
Hyperlinks & Bookmarks & Numbering
Regulatory agencies spend a considerable amount of time navigating through your submission content jumping from one document to another. To facilitate the review process, it's essential that your PDF files contain hyperlinks and bookmarks to aid these review teams. For example, a hyperlinked table of contents, list of tables, etc. linking to content in the PDF. Here are some essential hyperlink and bookmark tips:
When bookmarking, ensure that they match the table of contents so that the document can be navigated both through the bookmarks or TOC.
A common issue that tends to come up frequently is hyperlinks and bookmarks being linked to local server/drive locations. This produces PDFs with broken links, something you'll want to avoid when submitting to the agencies.
All bookmarks and hyperlinks should have the magnification property of Inherit Zoom so that the reviewers viewing preferences are preserved when navigating via bookmarks and hyperlinks.
All hyperlinks should be designated with a tick blue underline or by blue text.
Individual PDF files in an eCTD should be page numbered beginning at page one so that the PDF file and the document page number are the same.
Next Steps: Considerations as you Prepare for the eCTD Deadline
As the deadline approaches, and organizations explore the benefits of moving towards electronic submissions sooner rather than later, it's important that these organization clearly define their strategy for moving completely towards eCTD submissions. Understanding the strategy for eCTD compliance and your specific process for electronic regulatory submissions will provide you with a solid platform for commercialization.
As you prepare for the electronic submission deadline, take into consideration these key points:
Implement the right tools to create eCTD compliant content
Errors and issues that are tied to formatting and content are among some of the main things that contribute to failed eCTD submissions. Bringing in the right tools that allow authors to all work from the same format ensures that the documentation you create in support of a submission is complete and compliant. Often, when authors are working independently, attempting to harmonize different document formats before a submission is a time-consuming and costly process, and could lead to negative feedback from agencies if not tackled before submission.
The best way to combat this is to centralize the creation of regulatory content through an EDMS, in combination with an eCTD publishing tool. These tools enable your team to create content from templates with common formatting, structure, guidance and the correct regional information. This adds a level of consistency to the work your teams are doing, which ultimately speeds up the time to submit.
Montrium's RegDocs Connect solution is specifically designed to enable regulatory teams to author, review, approve and manage the content that forms a submission. Teams can associate templates to document types across multiple regions and then author documents directly in RegDocs Connect, converting content to PDF files that meet the regulatory requirements. This significantly speeds up the QC and management of submission content, ready to export to a publishing tool.
Harmonize your data, documents and submission standards
As you begin to submit applications to the regulatory agencies it's important that you do so in a consistent and compliant manner. One of the best ways to do this is to harmonize all of the content and standards that pertain to your submissions under one roof through harmonized standards, allowing you to reuse submission content from one region to another. This can significantly reduce the amount of repeat work required to file in multiple countries or regions, speeding up time to submit.
Adjust your processes as the regulatory landscape evolves
While traditionally the life sciences industry is seen as an industry that moves fairly slowly in terms of technology and regulation, this is changing and the regulatory agencies are beginning to speed up the adoption of new models, standards and technologies. However, even though regulations are evolving, many organizations either don't document their publishing process at all or fail to update them as new regulatory guidance is released.
As the regulatory landscape adjusts, so should your organization, looking deeper into how you currently manage regulatory information. Without this adjustment internally, procedures can become outdated and irrelevant, or even non-compliant.
Keys to a Successful eCTD
Plan the eCTD early (12-18 months before target submission date)
Get the eCTD publisher on board early
Have authors work from standardized templates and style guides
Map out the data deliverables for the submission
Assemble a dedicated Team – including internal and external resources
Obtain agreement on content (internally and with FDA)
Identify critical path items early
Create a solution, no/minimal impact on the timeline
Manage information and communication flow
Review Agency commitments/recommendations
Get internal agreement on NDA messages early
Build QC steps into the review process
Obtain thorough knowledge of FDA standards


Key Takeaways
While the impending regulatory deadline for electronic submissions eCTD can leave you feeling daunted, the move should be seen as a positive one. If you're not already using eCTD in your organization, this move by the regulators gives you the opportunity to evaluate your current regulatory process, adjust as needed, and bring in sophisticated tools to complement your team and your submission strategy. eCTD is a step in the right direction for the agencies, and we for one are excited about the future electronic content management in the life sciences.
Have specific questions about the deadline? Curious about how to move towards eCTD? Leave a comment below!
Get our best content delivered straight to your inbox