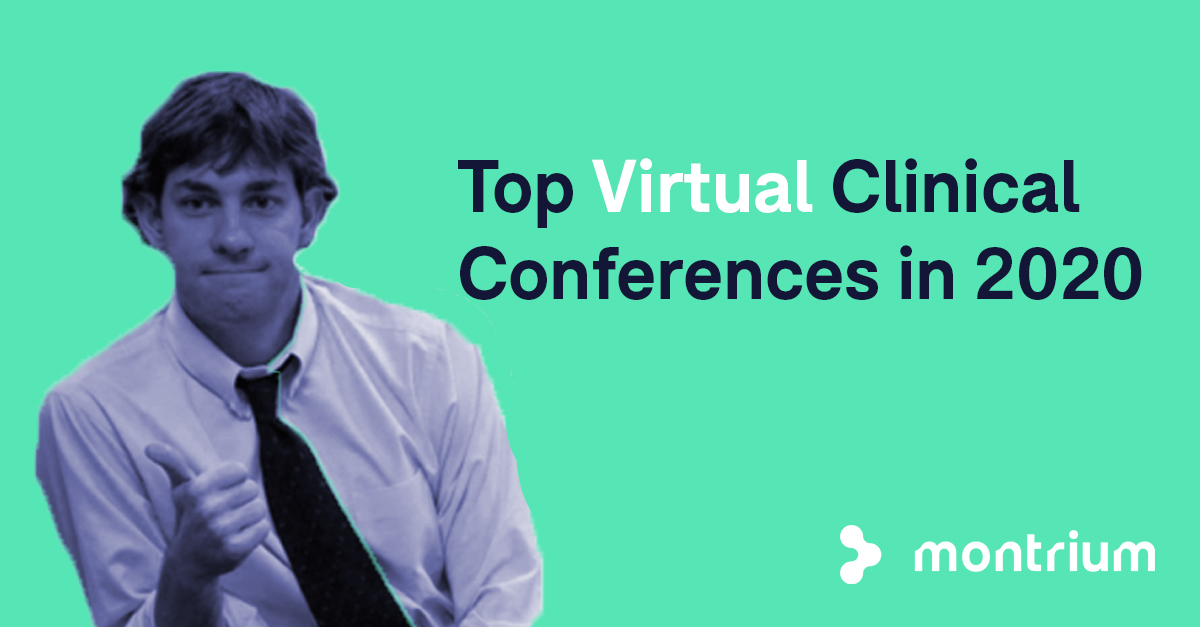 While we're all working from home and adjusting to life without the daily commute and travel, we've compiled a list of virtual conferences to help stay ahead of advancements in clinical trials, clinical operations, and technologies shaping the future.
Many conferences are free to join or have reduced pricing for registration, that's the beauty of going digital! With so much engaging content and expert advice at your fingertips, it's never been so easy to learn and build connections.
Here are the top virtual clinical conferences of 2020 to help you expand your TMF and clinical operations knowledge.
Upcoming Virtual Conferences
3rd Virtual Clinical Trials Conference
November 16-17, 2020
The 3rd Virtual Clinical Trials Conference is the industry's recognized leading event for overcoming technology barriers, accelerating the adoption of digital trials, and building team capabilities around these now-essential methods.


Clinical Operations in Oncology Trials USA: Virtual Experience
November 17, 2020

This event will bring together experts from across the country to discuss the latest innovations in technology, regulatory affairs as well as uncover new opportunities through adaptive approaches and methods to run successful clinical trials.


Clinical Trial Regulation Conference
November 18-19, 2020
This conference will focus on the differences between the present and new requirements for managing clinical trials in the face of forthcoming changes, including the new EU clinical trials Regulation but also conducting novel complex innovative design trials. Regulators and other decision-makers, together with various experts in the field, will debate how the new legislation will impact the processes for the design, submission and approval, and managing European clinical trials in the future.


14th Annual Optimising Clinical Trials Summit: Site Selection, Feasibility, and Patient Recruitment
November 18-19, 2020
The Summit will gather the best clinical trials experts from the top pharma companies which will discuss the impact of pandemic on clinical trials, new innovations such as virtual and hybrid clinical trials, real-world evidence, how to deal with the enormous volumes of data, patient centricity and patient-centred protocol, platform trials and many other interesting case studies.


December 9, 2020
eTMF Systems Day is the largest FREE online event dedicated entirely to Electronic Trial Master File Systems and how they can improve your TMF processes. Register today to hear straight from the experts about the significant impact of eTMF for growing organizations, how to build a business case and implement the technology, and where the future will lead us. It's going to be one full day of notable, informative seminars and networking opportunities that you can attend from the comfort of your own home. Get ready to expand your eTMF knowledge!


Deep Dive Into Decentralized Clinical Trials
December 8-10, 2020
This event features unmatched networking opportunities, presentations, panels, and roundtables all developed for smaller companies with limited resources. Join us to gain a comprehensive education on streamlining decentralized clinical trials and the tools and technology needed to enhance patient engagement.
---


On
-D
emand
📺

Hear actionable industry trends and insights from 20+ TMF industry experts to help you speed up time to market and avoid costly delays. We explore how you can improve your TMF processes, exciting new technologies shaping tomorrow's clinical trial environment, as well as how to be responsive to changes in regulations.
Learn from some of the industry's leading TMF minds:
Jamie Toth – Head of TMF Operations,

Daiichi Sankyo

Paul Fenton – President & CEO,

Montrium

Marie-Christine Poisson-Carvajal - Head of TMF,

Pfizer

Fran Ross – TMF Practice Director,

Advanced Clinical

Sara Dean – Director TMF Operations,

Syneos Health

Dora Endreffy – Global Records Manager

, ICON

Anne-Mette Varney – TMF Process & Systems Manager,

NovoNordisk

David Ives – Director, Head of TMF Operations,

Alexion
Virtual Clinical Trials Online
This virtual event brings together industry experts to discuss the increasing pace of pharmaceutical innovation, the need to maintain data quality and integrity as new technologies are implemented and understand regulatory challenges to ensure compliance.


CHANGE OF PLANS: Clinical Trials in 2020 : Part 1 (Webinar)

A recorded webinar with the former Head of Clinical Innovation for Pfizer, Craig Lipset, about contingency plans for clinical trials amidst the unexpected disruption of COVID-19. Craig helps innovators think through their options, shares a variety of resources to support remote trials and discusses how all of this affects the patient experience.

CHANGE OF PLANS: Clinical Trials in 2020: Part 2 (Webinar)
Former Head of Clinical Innovation for Pfizer, Craig Lipset, will present on contingency plans for clinical trials amidst the unexpected disruption of COVID-19. Craig will speak to some of the resources to help support remote trials, and commentary will be provided about their impact on the patient experience.


Clinical Trial Supply 2020 – A Virtual Experience
A day packed with two streams of engaging content, this event will feature key speakers from the FDA, Portola Pharmaceuticals, Gilead, and more. Topics include - why Direct-to-Patient drug supply is the answer to conducting clinical trials during the COVID-19 crisis, unlocking the potential for Big Data and Artificial Intelligence, and special challenges in supply and partner-sourcing for stem-gene clinical trials.


2nd Annual Virtual Clinical Trials
Life science R&D departments must be able to utilize digital technologies to ensure high-quality clinical trials and take into consideration how operational activities will perform during a virtual trial. This online event will examine how the industry is navigating different models of remote trials and gain best practices for preparing or improving internal infrastructure to support a remote study.


Clinical Trials at the time of COVID-19: And beyond? (Webinar)
On the occasion of International Clinical Trials Day on 20 May, this event seeks to explore the takeaways that COVID-19 teaches us on how to optimise research and development and on how to streamline regulatory processes.


DIA Europe 2020 is Europe's largest and most forward-looking neutral healthcare conference. This annual event spans DIA's strategic initiatives across a range of Thought Leadership streams, including Clinical Development & Operations, Regulatory Science & Operations, Value and Access, Medical Affairs and many more. More details on the event are forthcoming.


The event consists of 45+ educational sessions covering all aspects of clinical document management including regulatory guidance, compliance, quality, and technology. Life science professionals from Pharmaceutical, Biotech, and Medical Device organizations who are looking to improve their processes through strategic improvements and partnerships are encouraged to attend. Montrium's CEO Paul Fenton will be presenting!


DPHARM: Disruptive Innovations US
DPHARM challenges and reports on innovation in clinical trials to reduce patient/physician burden and drive greater efficiencies. The conference will highlight major opportunities to fundamentally change how clinical trials are operationalized going forward.


Global connections are more important than ever. With the same powerful one-to-one partnering and valuable content, BIO-Europe Digital continues to help you drive your life science partnering forward.


Outsourcing in Clinical Trials Europe 2020
A two day event where pharma, large and small, alongside biotechs have the opportunity to discuss, debate and consider new technologies and processes to streamline operations. The 2020 programme boasts two full streams; Clinical Operations & Outsourcing and Clinical Trial Technology & Innovation.


Clinical Trials Europe Clinical Quality Oversight Forum
"Be Part Of Europe's Largest Event Dedicated To Streamlining Clinical Trials And Improving Patient Outcomes" Enjoy the same world-class clinical insights, examples, advice and panel discussions that the event is renowned for, with direct access to the information and people you need to get your questions answered.
---
Are you excited to join some of these conferences from home? Comment below and let us know which ones you're looking forward to attending! Should more conferences go digital, we'll keep adding to this list.



Get our best content delivered straight to your inbox