Published on
January 2015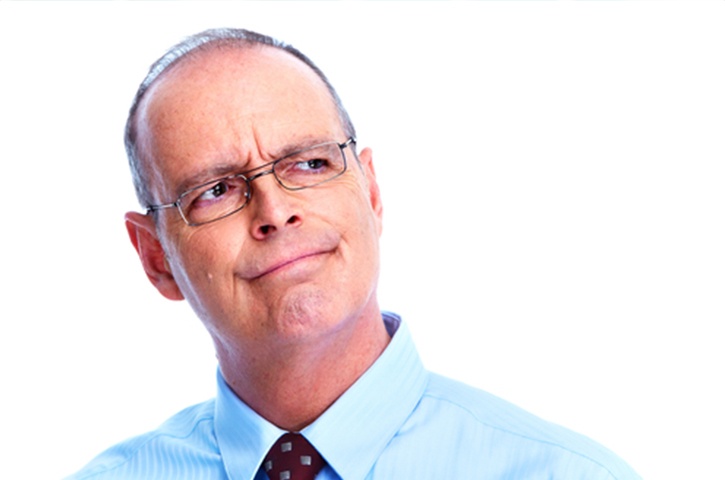 Today's typical Life Science organization is constantly challenged with the need to improve their product quality, the productivity of their teams, return on investments and of course compliance. This, unfortunately all has to be done whilst demonstrating business growth, and bringing in the dollars. As a result of operating in this challenging environment, organizations now must look to re-evaluate their business, looking at areas like IT to reduce inefficiencies, and increase productivity.
One of the biggest challenges that life science organizations face is the sheer volume of data currently being generated across the enterprise in support of departments such as Research & Development and Quality Assurance. Unfortunately, a large percentage of the data created today is either still managed in a paper-based system, making it difficult to find information, or stored in electronic systems that are difficult to use or manage.
Going paperless in a regulated environment can be challenging, but it is one of the best ways of reduce operational bottlenecks. If you're not sold already, keep on reading.
1) Talk About Automating Collaboration
When we think about document management, two critical stages in the document lifecycle can be difficult to control: review and approval. In a paper-based system, documents are reviewed over email, generating lengthy email threads. Multiple versions of the document end-up circulating at any given time and once the review is complete, we print our document and approve with our trusty wet-ink pen on paper. Does this really sound like the best we can do?
In an electronic system, documents can be reviewed and approved electronically, removing the complex resource-intensive and drawn-out process of email review and paper approval, and ensuring that we are always viewing, editing and approving the most recent version of the document. Moreover, if you work with Office products and use SharePoint for document management you can even review, edit, and collect comments from colleagues simultaneously, and keep a history of the actions and modifications performed by the different users.
A commonly encountered roadblock when moving to electronic signatures is the fear that pressing on a button does not have the same weight as wet ink signature. Understandably, signing a printed paper copy of the final document feels real while clicking on a button and entering your user name and password doesn't really give you the same feeling at first. But in our everyday lives, we substitute standard verification methods for more efficient ways to verify our identity – think about when we moved from signing for approving credit card purchases to entering our PIN instead. The leap isn't as big as you think.
2) Explain How Centralized Document Repositories Work
If you're storing documents in physical cabinets, locating documents can be time-consuming. When you centralize your documents in an electronic system, multiple people from any location can access an original electronic document, simultaneously, in a matter of seconds, provided they have adequate permissions to do so – I will talk about permissions a little later. You can say goodbye to lost folders and messy cabinets.
Even if you keep electronic copies in a file share, searching for documents (or their previous versions) in multiple levels of folders can become tedious. A centralized document repository enables you to apply metadata that allows you to easily find the documents you need using information such as the product, study, type of document, approval date, health authority, etc. From your search, you can also generate lists of documents based on the same information.
When the day of the audit comes, your EDMS will provide you with an already organized document store, easily accessible documents, and an accurate list of documents = Happy Auditor.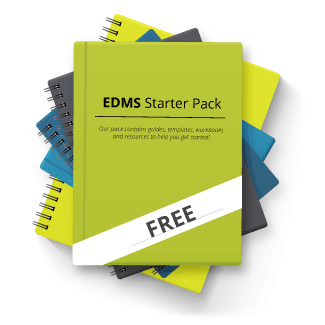 3) Present the Advantages of Taxonomy & Standardization
Industry models and standards, such as the ones proposed by the DIA (Drug Information Association) and the ICH (International Conference on Harmonization of Technical Requirements for Registration of Pharmaceuticals for Human Use, are gaining in popularity. There are many advantages to adopting those which mainly come down to saving you time and money.
An electronic system can help you making this change and ensuring it is universally adopted across your organization. Old habits die hard and people tend to keep their own copies of templates, or follow processes more or less how they should. With an EDMS, templates are centralized so the most up-to-date version is readily available to everyone, and by automating processes, you are assured that procedures are followed.
4) Show the Value in Security & Permissions
Security in an organization is paramount. So much so that the regulatory agencies put heavy emphasis on what they want to see in digital security. The right combination of physical, logical, and procedural controls for an EDMS can be safer than your standard locked fireproof cabinet. If you're wondering what IT SOP's you're going to need, here's a list.
In a paperless office, where documents are managed electronically through a dedicated system, you can easily control who has the rights to create, edit, review, approve, and generally access documents. Granting and removing permissions can be done with uniformity and in a controlled manner. Another benefit of using permissions is that you can ensure that only authorized persons can conduct these actions in the system.
5) Explain the Benefits of Technology Integration
What's great when you turn to electronic systems is that there are a range of solutions and applications that have been developed to integrate with each other. Whether it's a native integration, plug-in, or web service, integrating with other applications that you use on a daily basis can streamline your operations even further. For example, Microsoft Office has a strong integration with other Microsoft products, including SharePoint. This technological integration promotes seamless business processes integration. You connect systems you already use in your business (accounting & finance, legal, administration, etc.) and ultimately improve productivity.
This can even be extended to electronic regulatory submissions to health authorities, which is a safer and faster way to submit your documents. Agencies across the world (US, Canada, Europe, Japan) have developed or have ongoing projects to put in place electronic submission tools since it also relieves them of several administrative burdens such as managing paper or CDs, ensuring the security of your data, cross-referencing your submissions, etc.

The Takeaway
Moving your document management from a paper-based system to an electronic one is undoubtedly a major organizational change. I have attempted to list only but a few benefits of moving to an EDMS, but there are many, many more to attribute. It is also clear from a business standpoint that it is a change that will benefit the entire organization not only in terms of efficiency, but also in quality.
Here's a summary of the points presented above, show your skeptic this: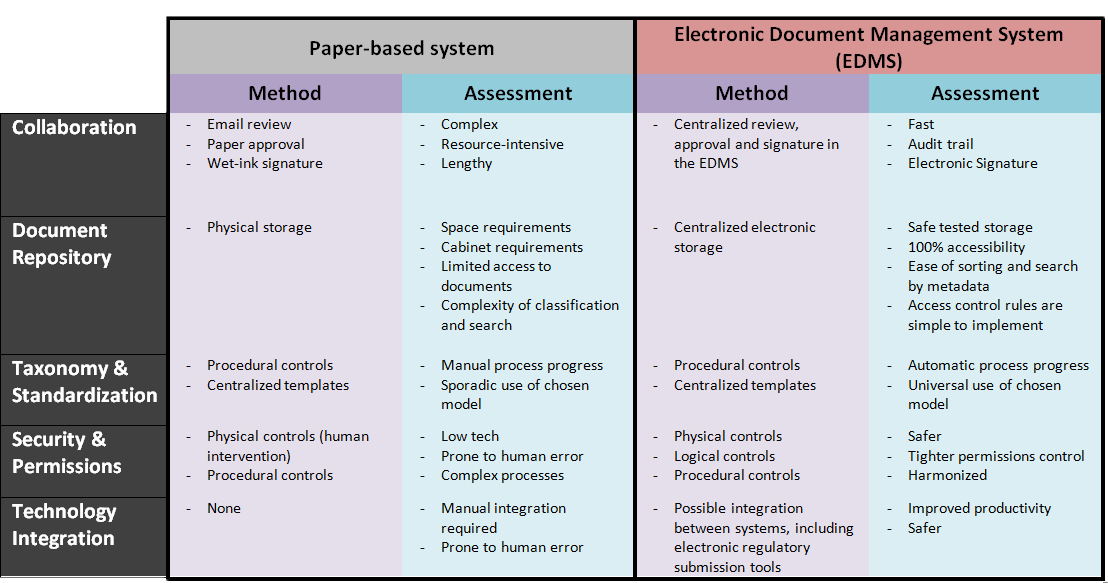 What are your biggest selling points for implementing an EMDS? Leave a comment below, we would love to hear your thoughts!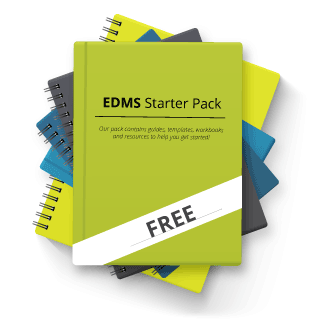 Get our best content delivered straight to your inbox